Iran, Turkey express dismay over regional impacts of sanctions
December 21, 2018 - 20:29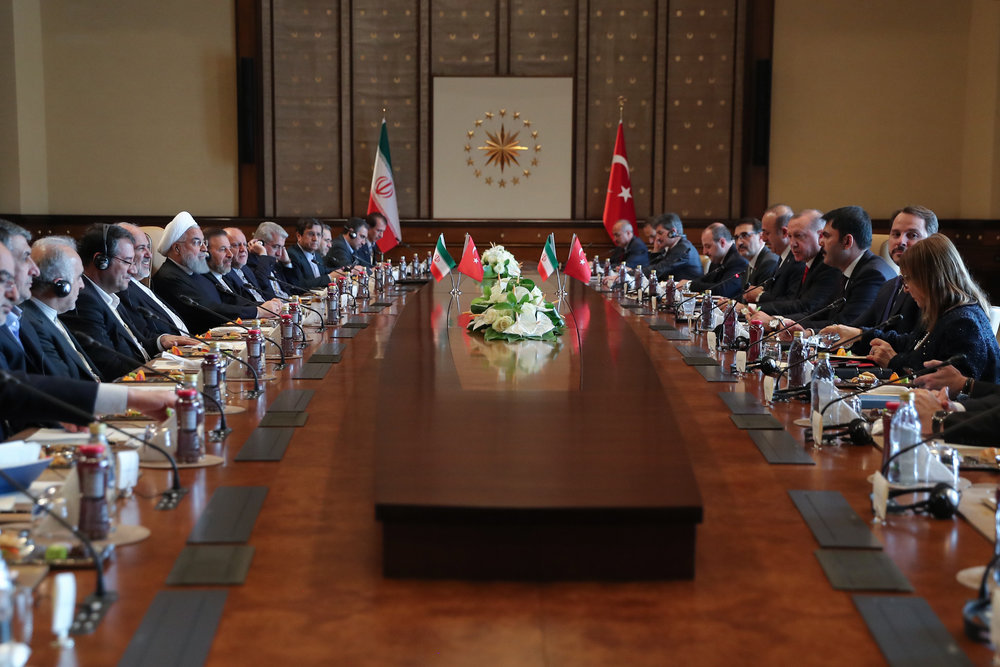 TEHRAN – Iran and Turkey issued a joint statement on Thursday criticizing the U.S. move in leaving the 2015 nuclear deal and ordering sanctions on Iran.
They said Washington's decision will negatively influence economic relations between regional countries.
The statement was issued at the end of the High Council for Iran-Turkey Strategic Cooperation in Ankara chaired by Iranian President Hassan Rouhani and his Turkish counterpart Recep Tayyip Erdogan.
Despite the sanctions, the two countries agreed to boost their trade and economic ties to the target goal of $30 billion per year.
Tehran and Ankara also called for closer bilateral relations in various areas, especially economy, politics and fight against terrorism.
Expansion of ties between the two neighbors will contribute to regional peace and stability, the statement added.
Iran and Turkey also called for comprehensive efforts to protect the nuclear deal, officially known as the Joint Comprehensive Plan of Action (JCPOA), calling it the fruit of multilateral diplomacy at the global stage.
President Donald Trump withdrew the U.S. unilaterally from the 2015 nuclear deal in May and ordered sanctions against Iran. The first round of sanctions went into force on August 6 and the second round, which targets Iran's oil exports and banks, were snapped back on November 4.
Iran, Turkey reaffirm commitment to Syria's sovereignty
In their joint statement, Iran and Turkey also reaffirmed their commitment to protecting the Syrian sovereignty, territorial integrity and political unity.
They praised the achievements of the Astana peace process which has been underway between Syria's warring parties since January 2017, saying negotiations should continue in parallel with counter-terrorism battles in an effort to find a peaceful solution to the crisis in the country, Press TV reported.
Rouhani: No third country can harm Tehran-Ankara ties
During a joint press conference with Erdogan, Rouhani said that no third country can harm relations between Tehran and Ankara.
"Nobody, no power and no country is able to harm Tehran-Ankara friendly and brotherly ties," he said.
He praised the Turkish government's firm stance in supporting Tehran in the face of "illegal" and "cruel sanctions" by the United States.
The U.S. act in quitting the JCPOA is against international law, Rouhani asserted, adding that Washington's action in imposing sanctions is a "terrorist act".
He said the time to take "bullying" actions has gone and "countries take decision based on common interests".
For his part, Erdogan said that Turkey is determined to expand relations with Iran.
He said that all sides should make efforts to preserve the nuclear deal.
Turkey does not support the U.S. sanctions against a neighboring country and will stand beside Iran, Erdogan remarked.
During a meeting with Iranian and Turkish businessmen, Rouhani also said that Iran will provide energy to Turkey for a long term.
Rouhani also said his country backs investment by Turkish private sector in Iranian energy market.
No country can affect Iran-Turkey economic relations and that sanctions can turn into opportunity to increase interaction, Rouhani stated.
"We believe that cruel and unfair sanctions against the Iranian people can turn into a very golden and valuable situation to link the two countries' economies in a way that no threat and action can harm it," the president remarked.

NA/PA