Iranian, Syrian defense officials hold talks
January 7, 2019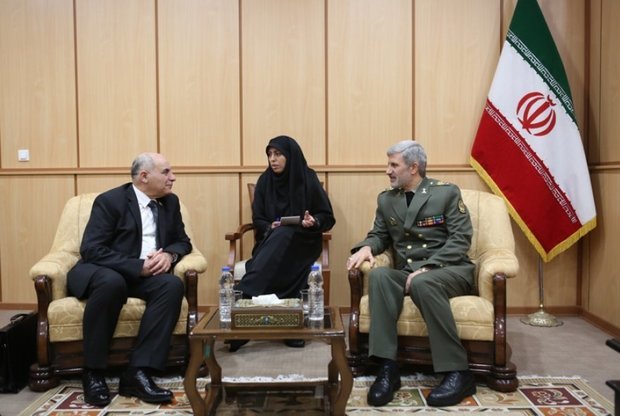 TEHRAN – Defense Minister Brigadier General Amir Hatami met on Monday with Syrian Deputy Defense Minister Mahmoud al-Shawa in Tehran, where the two sides discussed the latest developments in the regional countries, particularly in Syria.
The meeting was held on the sidelines of the International Conference on Defense and Security in West Asia, which kicked off in Tehran on Monday morning, Mehr reported.
Hatami voiced his satisfaction with victories of the Syrian government over terrorists, expressing hope the victories would continue unabated.
For his part, Al-Shawa expressed hope that Syria could recapture all of its soil from enemies with the support of friendly countries such as Iran.
Speaking with IRNA on the sidelines of the event, al-Shawa said Tehran-Damascus relations will be further strengthened in the future.
"The cooperation and relations between Syria and Iran are not newborn; such relations date back to the beginning of the Islamic Revolution in Iran," he remarked.
He also pointed to the "illegal" presence of American forces in his country, saying there will never be negotiations between the Syrian and American forces because of this issue.
"According to what we have seen so far, the American forces are transferring their vehicles from Syria toward Iraq and U.S. President [Donald] Trump has met with some of the forces who left Syria," al-Shawa added.
On 19 December, Trump announced via Twitter the withdrawal of U.S. forces from Syria, and thus set in motion the process to withdraw the estimated 2,000 U.S. troops in the war-torn country.
MH/PA