Pop stars to extend sympathy for Behnam Safavi's family
January 11, 2019 - 19:4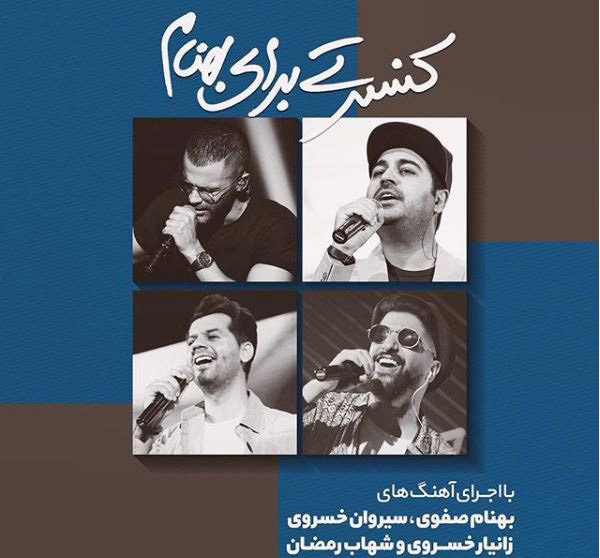 TEHRAN – Pop star Sirvan Khosravi along with his brother Xaniar and Shahab Ramezan will perform in a joint concert tomorrow at the Iranian Conference Hall in Tehran to sympathize with the family of Behnam Safavi, the 35-year-old pop singer who went into a coma last week due to brain cancer.
The performance titled "A Concert for Behnam", which was announced in an Instagram post by Sirvan on Wednesday, was sold out a day after.
"Behnam's family has not asked anyone for financial support and also rejected all his friends' proposals for financial support," Sirvan wrote.
"I hope that we along with you will give Behnam positive energy and will see him on stage again very soon," he told his fans.
Earlier in July 2015, Behnam Safavi underwent successful surgery at a Tehran hospital to remove a small tumor from his brain. In early October, his medical team permitted him to hold a concert to raise his spirits sufficiently to allow him to continue chemotherapy and radiotherapy treatments.
He appeared on the stage at Tehran's Milad Tower, performing his concert while sitting in a chair. However, he went into a coma after receiving chemotherapy treatment in December.
In July 2017, he underwent a successful operation performed by Professor Majid Samii and his team in Hanover, Germany as the tumor recrudesced. He returned to Iran to pursue medical treatment in his homeland. However, his family announced last week that he had gone into a come again.
Safavi's debut album, "Be My Love", was released in October 2009 and a song by the same name from the collection soon became a smash hit at that time.
Two years later, he released his second album, "Calm", which earned him a firm place in the Iranian pop music arena. His latest collection "Extraordinary" was released in May 2014.
Photo: A poster for "A Concert for Behnam".
MMS/YAW