Mosaic by Monir Farmanfarmaian leads Tehran Auction  
January 12, 2019 - 18:51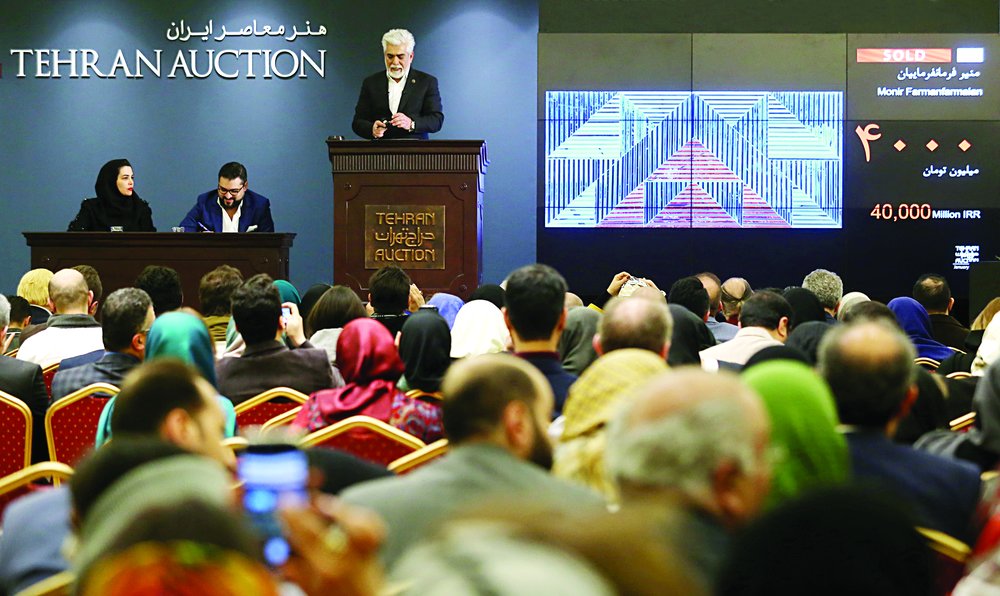 TEHRAN – An untitled mirror mosaic by Monir Farmanfarmaian was the most expensive work sold at the 10th Tehran Auction on Friday as it fetched 40 billion rials (over $950,000) during the sale of Iranian modern art.
"Pi+Rouz+G", a painting by Hossein Zenderudi, took in 35.5 billion rials (over $845,000) and was the second most expensive artwork sold at the sale, which was organized at the Parsian Azadi Hotel.
Farmanfarmaian's another untitled mirror mosaic sold for 29 billion rials (over $690,000) was the third most expensive item sold at the auction.
A total of 114 artworks went under the hammer during the auction, which grossed over 344 billion rials (about $8.2 million).
Only an untitled painting by Hossein Cheraghchi with an estimate of 150 to 200 million rials failed to find a buyer.
Two photographs of the 1980-1988 Iran-Iraq war were also recognized at the auction.
"Conquest of Khorramshahr", a black and white photograph by Saeid Sadeqi that depicts Iranian soldiers celebrating the liberation of Khorramshahr at the Friday Mosque of the city was one of the photos. With an estimate of 300 to 400 million rials, the picture was sold for 750 million rials.
With an estimate of 200 to 250 million rials, "Khordad 3, '61, Khorramshahr", another black and white photograph by Mohammad Farnud, fetched 700 million rials. The photo shows a sandbag barricade built in front of the ruins of a building in the southwestern Iranian city of Khorramshahr in 1982.
Photo: Auctioneer Hossein Pakdel takes a bid for the sale of an untitled mirror mosaic by Monir Farmanfarmaian during the 10th Tehran Auction at the Parsian Azadi Hotel in Tehran on January 11, 2019. The artwork was the first top seller, fetching over $950,000. (Mehr/Asghar Khamseh)
MMS/YAW