Book City to review works by Swiss Iranologist Burgel
January 20, 2019 - 18:50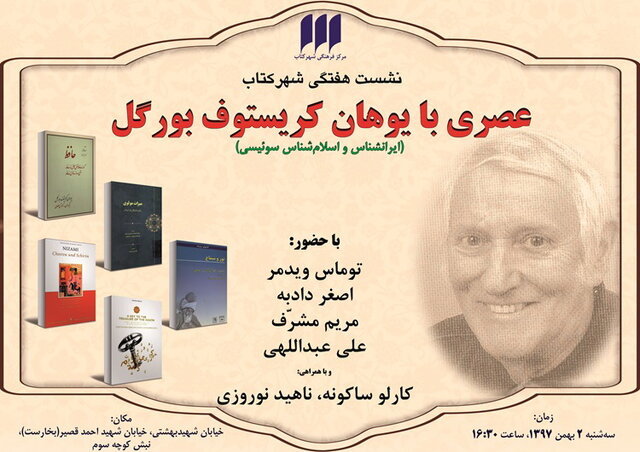 TEHRAN – The Book City Institute in Tehran will hold a session to review books and academic activities of Swiss Iranologist Johann Christoph Burgel on January 22.
"A Session with Johann Christoph Burgel" will be attended by Thomas Widmer, the second secretary of the Embassy of Switzerland in Iran, and several Iranian scholars, including Asghar Daadbeh and Ali Abdollahi.
Burgle,88, has a Ph.D. from the University of Gottingen in Germany. From 1970 until his retirement in 1995, he was a professor and director of Islamic studies at the University of Bern.
"Nightingales at God's Throne: Studies on Persian Poetry", "Iqbal und Europa", "Intoxication, Earthly And Heavenly: Seven Studies on the Poet Hafez of Shiraz", "Three Studies on Hafez: Goethe and Hafez" are among some noteworthy books by Burgel.
Photo: A poster for "A Session with Johann Christoph Burgel".
RM/MMS/YAW