From Hollywood to Saudi Arabia, Leonardo DiCaprio to Paris Hilton: The scandal that enveloped the world
February 10, 2019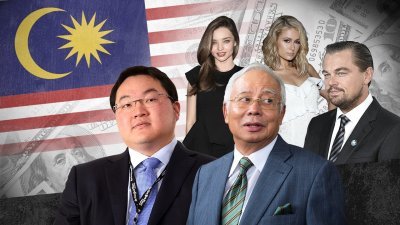 Billions of dollars in allegedly misappropriated funds. Millions spent on luxury handbags and jewelry. One hit movie, two mediocre comedies, a swanky New York condo, a $250 million yacht and a Picasso. Leonardo DiCaprio, Paris Hilton, Miranda Kerr and Lindsay Lohan.
It's a scandal bursting with juicy details, celebrity cameos and webs of confusing information. On February 12, prosecutors in Malaysia will begin unraveling some of it when the country's former Prime Minister Najib Razak appears in court on charges of abuse of power, criminal breach of trust and money laundering.
Other alleged players in the scandal -- chief among them the international financier Jho Low -- remain at large, out of the reach of Malaysian and US authorities.
Malaysian police show photos of goods -- including millions of dollars worth of jewelry and hand bags -- seized from the home of former Prime Minister Najib Razak.
Genesis of a scandal
In early 2009 Najib, weeks into his premiership, ordered the creation of a state investment fund initially worth $1.2 billion, which would later be renamed 1Malaysia Development Berhad, or 1MDB.
Its stated purpose was to lead "market-driven initiatives to assist the government in propelling Malaysia towards becoming a developed nation that is highly competitive, sustainable and inclusive."
Instead, according to US prosecutors, 1MDB was used as a slush fund by Najib, Low and other high-ranking officials at the fund, who allegedly embezzled more than $3.5 billion over six years. Swiss prosecutors would later put that figure at over $4 billion.
"(These funds) were intended to grow the Malaysian economy and support the Malaysian people. Instead, they were stolen, laundered through American financial institutions and used to enrich a few officials and their associates," said Attorney General Loretta Lynch in 2016, after the US Department of Justice launched a case against 1MDB.
From the beginning, those in charge of the fund were allegedly siphoning off cash for themselves and allies, misappropriating more than $1 billion in 2009 alone.
Both Low and Najib have repeatedly denied the charges laid against them. They accuse Malaysian authorities of pursuing a politically motivated prosecution.
(Source: CNN)