Relief Foundation, vice presidency for science, technology sign MOU to enhance job opportunities
February 12, 2019 - 22:39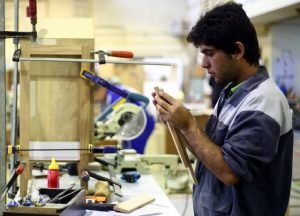 TEHRAN – The Imam Khomeini Relief Foundation and the vice presidency for science and technology inked a memorandum of understanding (MOU) to expand cooperation on generating jobs by the means of knowledge-based companies in the underprivileged areas, Mehr news agency reported.
The deputy head of the Foundation, Hojatollah Abdolmaleki and secretary of soft and identity-making technologies development headquarter at the vice presidency for science and technology Mohammad Hossein Sajadi Nayeri have inked the MOU on Tuesday.
Abdolmaleki referring to the knowledge-based economy as a major need for economic progress in the country, said that moving towards the knowledge-based economy requires serious measures as well as micro and macro production, focusing on knowledge, innovation and creativity.
He further expressed interest toward the cooperation opportunity opened up between knowledge based companies and the Imam Khomeini Relief Foundation, adding that the Foundation, as an institution active in job generation and employment in the country, is committed to work on establishing a knowledge-based economy.
Sajadi Nayeri also for his part said that the Relief Foundation has capabilities along with needs to provide job opportunities in deprived areas which make it possible to use the capacity of knowledge-based companies.
As per the MOU, a three-year plan will be implemented in deprived areas through which financially struggling individuals will find the opportunity to have a job and generate income, in cooperation with thousands of knowledge-based companies.
The Foundation's experiences in empowering financially struggling individuals and recognizing each region's employment capacity can help knowledge based companies to work in these areas, he stated.
Pointing out that job creation in underprivileged areas is the main goal shared between the two organizations, he added that knowledge-based and creative companies need new opportunities to be more effective in the country's economy, and opportunities provided by the Relief Foundation are among the most efficient ones.
Imam Khomeini Relief Foundation is an Iranian charitable organization, founded in March 1979 to provide support for deprived families along with helping them regain financial stability. It focuses mostly on generating sustainable jobs for the low income individuals rather than allocating only an amount of money.
FB/MQ