Iran's military chief: Pakistan has started operations against terrorists
February 18, 2019 - 17:55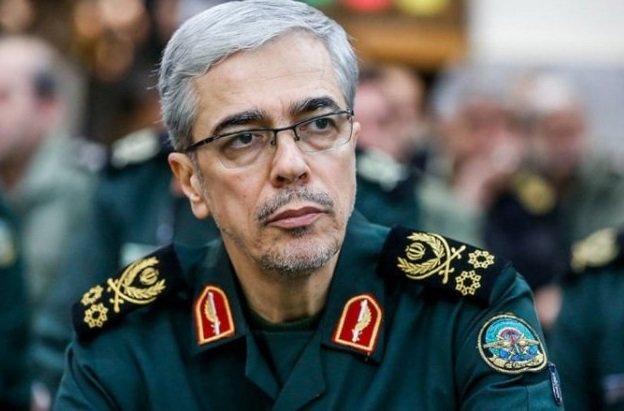 TEHRAN - Major General Mohammad Hossein Baqeri, the Iranian Armed Forces Chief of Staff, said on Monday that Pakistan has started operations against terrorists' hideouts since Sunday.
However, he said, "We have announced that if you are not able to counter [terrorists], we will take action and avenge the blood of our dear ones."
Late on Wednesday, a car laden with explosives hit a bus of soldiers on Zahedan-Khash road in the border province of Sistan-Balouchestan killing 27 and injuring the remaining 13.
Terrorists usually use Pakistan's soil as a safe haven to carry out attacks inside Iran.
Iran has always been complaining that Pakistan fails to fully guard its borders with Iran. Pakistan has rejected repeated calls by Iran for joint operations against terrorists inside Pakistan.
Parliament Speaker Ali Larijani said on Sunday that the Pakistani government should account for the terrorist attack. Larijani said Pakistan "cannot act irresponsibly", noting that "such behavior will severely damage the level of cooperation" between the neighboring countries.
Speaking at an event in Hormozgan province on Sunday, President Hassan Rouhani also threatened revenge against terrorists, saying he "regrets" the "wrong policies" of Iran's neighbors, without mentioning Pakistan.
On Sunday, Iranian Foreign Ministry summoned Riffat Masood, the Pakistani ambassador to Tehran, over the terrorist attack.
Foreign Ministry spokesman Bahram Qassemi said Iran "explicitly conveyed" to Ambassador Masoud that Tehran expects Islamabad and its military "to make a serious and decisive action" against the Jaish al-Adl group and its base inside its territory. Qassemi also said the ministry asked Pakistan to take "immediate and necessary measures" to identify and arrest the attackers.
In a phone conversation on Sunday, Pakistani Foreign Minister Shah Mehmood Qureshi told his Iranian counterpart Mohammad Javad Zarif that Pakistan will send a delegation to Iran over the attack.
Qureshi strongly condemned the attack and said Pakistan is ready to "cooperate" in investigating the terrorist act.
Taha Siddiqui, a Pakistani journalist and founder of safenewsrooms.org, has told Al Jazeera that "many of these groups have Saudi funding, but since Pakistan is dependent on Saudi aid, it turns a blind eye," on the existence of Jaish al-Adl and other armed groups.
Jaish al-Adl was founded after its parent group, the al-Qaeda-affiliated Jundullah, was dissolved following the capture and execution of its leader, Abdolmalek Rigi, by Iran in 2010.
In 2013, the group abducted and killed 14 Iranian forces in an ambush near the Iranian-Pakistani border.
The following year, at least five members of the Iranian security forces were also abducted.
In October 2018, the armed group abducted 12 Iranian security personnel near the city of Zahedan. Pakistani security forces later intervened and secured the release of at least five of the 12 abductees.
In November 2018, the Iranian Interior Ministry warned that Iranian armed forces may launch operations against terrorists inside the Pakistani territory in case Islamabad fails to do its part.
NA/PA