University of Oxford honors vocalist Shahram Nazeri 
February 25, 2019 - 19:16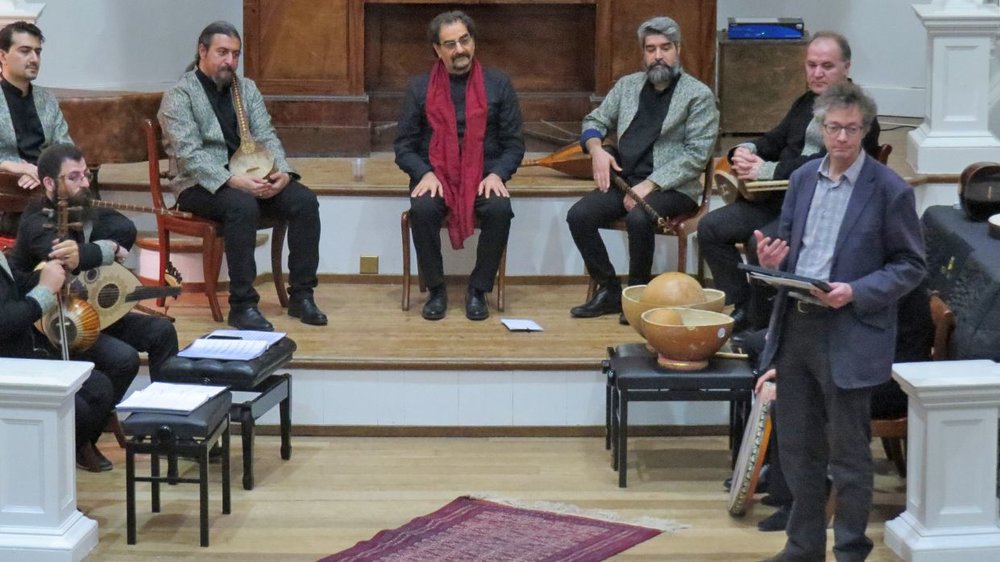 TEHRAN – Veteran Iranian vocalist Shahram Nazeri was honored at the University of Oxford in the UK last week with a plaque for his 40 years of activities on promoting Persian music and poetry.
Nazeri received the honor after a concert with the Mana Ensemble, which performed part of the great international cultural project "The Language of Love" at the Holywell Music Room of Wadham College last Tuesday, the college announced.
"The Language of Love" aims to promote the high position of Persian poetry and literature by introducing Persian luminaries and their roles in preserving Persian culture."
Wadham College fellows Edmund Herzig and Dominic Brookshaw introduced Nazeri to the audience before their performance.
Herzig is a professorial fellow in Iranian studies and Brookshaw is a Senior Research Fellow in Persian at Wadham.
"This concert was put on by the Mana Naqsh Organization, which has been working with people in Persian studies in Oxford for more than two years regarding the "Language of Love" project, which aims to bring together scholarship and performance to encourage the enjoyment of Persian poetry and music across boundaries", said Herzig at the ceremony.
"I first got to know and enjoy classical Persian music and song many years ago through listening to cassettes of Shahram Nazeri. His vocal style is natural, warm and energetic and he often performs songs with strong rhythm and melody and plenty of repetition; that makes his music more accessible and enjoyable for novices and in part accounts for his popularity far outside the borders of Iran" he added.
Wadham College and the Oxford Research Centre in the Humanities are also collaborating with Mana.
Nazeri and Tajik musician Davlatmand Kholov together gave a concert at the Barbican Hall in London on February 24, officially launching the project "The Language of Love".
Nazeri is enormously popular in his homeland of Iran, and Kholov is an expert on the folk music of Central Asia, particularly his native country Tajikistan.
Photo: Professor Edmund Herzig welcomes Shahram Nazeri and the Mana Ensemble at the Holywell Music Room of Wadham College at the University of Oxford on February 19, 2019. (Wadham College)
RM/MMS/YAW