Image of the Year honors cartoonist Kambiz Derambakhsh
March 9, 2019 - 19:2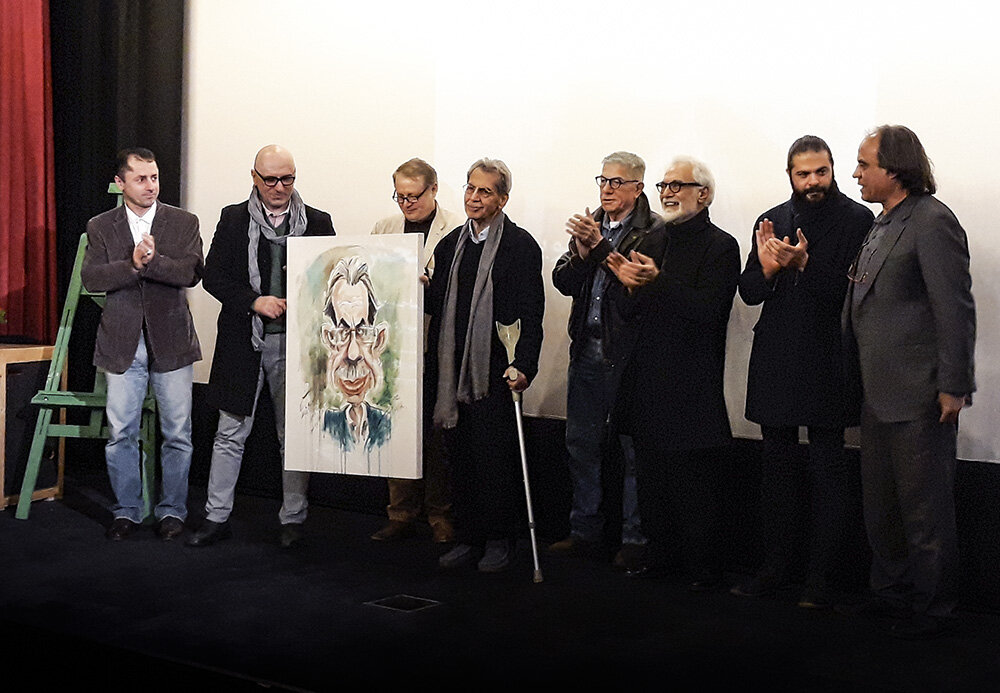 TEHRAN – Kambiz Derambakhsh, a cartoonist famous for his quick and simple cartoons, was honored with a lifetime achievement award at the 16th edition of the Image of the Year Celebration on Friday.
The ceremony named "In Praise of Image" took place at the Iranian Artists Forum attended by a large number of veteran actors and cartoonists.
Speaking at the ceremony, the director of the celebration, Seifollah Samadian said that the organizers honor those who have added more credits to Iranian art.
"Derambaksh is being honored for his 60 years of creating everlasting images. He is an artist who never liked to live outside his country. He is the one who keeps creating every single moment of his life," Samadian said at the ceremony.
The previous honorees were film critic Akbar Alami, and cinematographers Mahmud Kalari and Alireza Zarrindast.
Tehran City Council member Ahmad Masjed- Jamei also called Derambaksh an artist who has dedicated his time to the youth.
Journalist and film critic Hushang Golmakani, who used to be a coworker of Derambaksh forty years ago, called the cartoonist the best.
"For me Derambasksh is still the best cartoonist and graphic designer, as I still believe Zarrindast is the best cinematographer and Kaveh Golestan the best photographer," he said.
Derambakhsh received the plaque of honor and took photos with his friends at the end of the ceremony.
Known for his talent to find obscure themes for his creations, Derambakhsh, has worked as a cartoonist, a graphic designer and an illustrator for over 50 years.
Derambakhsh has won many awards at international competitions including the grand prize of Istanbul competition in 1990, the grand prize at Japan's Yomiuri Shimbun competition in 1998 and the grand prize of a Polish anti-war caricature contest in 2002.
The 76-year-old cartoonist has showcased his works in many exhibitions around the world.
Photo: Cartoonist Kambiz Derambakhsh (4th Left) poses for a photo with a portrait of himself the cartoonist Bozorgmehr Hosseinpur painted during his honoring ceremony at the Image of the Year Celebration held at the Iranian Artists Forum on March 8, 2019.
RM/