30-member Iranian trade delegation embarks on a visit to Iraq
March 11, 2019 - 20:53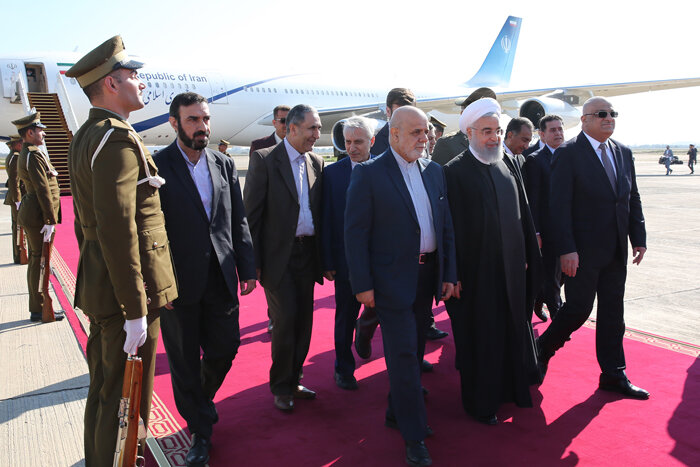 TEHRAN – Headed by the chairman of Iran Chamber of Commerce, Industries, Mines and Agriculture (ICCIMA), a 30-member trade delegation accompanied President Hassan Rouhani in his three-day visit to Iraq, ICCIMA portal reported on Monday.
Comprised of businessmen and representatives of the Iranian companies active in various areas including technical services, food, clothing, steel, cement, petrochemicals and mining, the delegation is due to take part in an Iran-Iraq business forum as well as holding B-2-B meetings with Iraqi counterparts.
President Hassan Rouhani arrived in Baghdad on Monday for a three-day official visit. The visit by Rouhani is considered a milestone in ties between Iran and Iraq at the current juncture in history.
The exchange of trade delegations between Iran and Iraq has increased by 137 percent in 2018, compared to the same period last year.
According to Iran's commercial attaché in Iraq Naser Behzad, during the mentioned period, 19 Iraqi trade delegations constituting 300 businessmen and officials have visited Iran to attend various exhibitions and economic events.
Last week, the official website of Iran's Trade Promotion Organization (TPO) announced that Iran has established a center in Baghdad for marketing its products in the Iraqi market and also expand the exports of its products to the neighboring country.
Relations between Iran and Iraq have increased greatly since the fall of Saddam Hussein in Iraq in 2003. Iran was the first country that recognized the governing system in Iraq after the Saddam fall.
On March 4, the secretary general of Iran-Iraq Joint Chamber of Commerce said Iraq has expressed readiness to establish a joint bank with Iran.
"The Issue was discussed during Iranian Foreign Minister Mohammad Javad Zarif's talks with the Iraqi side and the Iraqi Rafidain Bank expressed its readiness to establish branches in Iran." Hamid Hosseini said.
Iran is one of the major trading partners of Iraq. Baghdad has resisted pressure by the Trump administration to cut economic ties with Iran since Washington reintroduced sanctions against Iran last May. Iran and Iraq have agreed to trade in euros.
Also, the number of Iranian exhibitions held in Iraq is on an increasing trend.
The first specialized exhibition of Iranian electricity and related industries kicked off at Baghdad International Exhibition Center last week.
EF/MA