Rouhani makes high-profile visit to Iraq 
March 11, 2019 - 13:40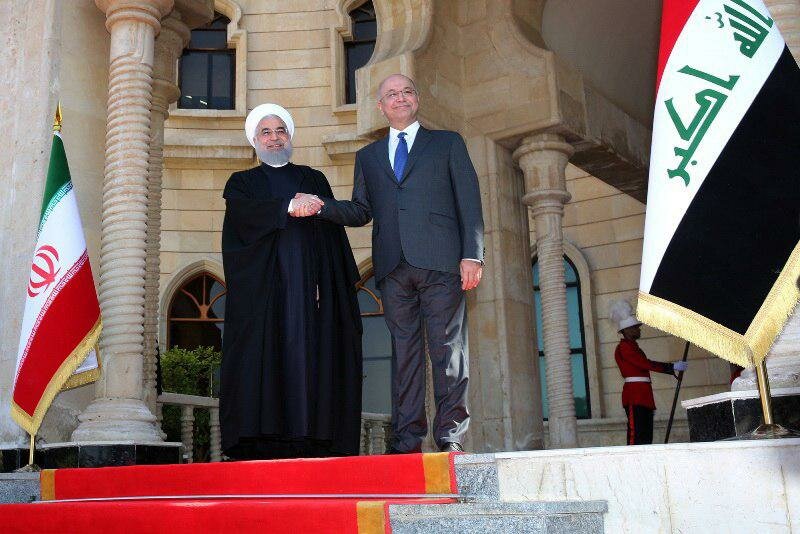 TEHRAN – President Hassan Rouhani of Iran made an official three-day visit to Iraq on Monday.
A large economic and political team is accompanying Rouhani during the trip. Foreign Minister Zarif had visited Iraq prior to the Monday trip.
The trip took place upon official invitations by President Berham Salih and Prime Minister Adil Abdul-Mahdi.
The visit was described as "historic" by some analysts. The trip took place despite the fact that the U.S. has been pressing Iraq to cut economic ties with Iran.
Rouhani was warmly and officially welcomed by Iraqi President Barham Salih upon his arrival.
Rouhani's trip has found special significance in light of U.S. President Donald Trump's New Year tiptoeing into Iraq this year, which Rouhani took as a "clear sign of the failure of America's agenda for Iraq."
"The fact that you sneak into a military base in the dark of the night,… take some photos with a number of troopers, make a short speech, and then fly away a couple hours later… shows your defeat," Rouhani told a cabinet meeting early this year after Trump's overnight trip to Iraq.
"This means that you have failed. This means that the people of Iraq are malcontent with you and you dare not appear amongst them. You absolutely dare not [do so] in Syria, absolutely not in Lebanon, and no way in Yemen. So by which regional nation specifically are you loved?"
On December 26, Trump spent a few hours at al-Asad Air Base in Iraq's western Anbar Province but did not visit the capital Baghdad. A scheduled meeting between Trump and Prime Minister Abdul-Mahdi was scrapped and they only talked over the phone.
Trump acknowledged the security concerns about visiting Iraq, saying it was "pretty sad" that he needed such secrecy to see U.S. troops.
"Pretty sad when you spend $7 trillion in the Middle East, and going in has to be under this massive cover with planes all over and all of the greatest equipment in the world, and you do everything to get in safely," he said.
The visit sparked a wave of condemnations from Iraqi officials, with some of them demanding the expulsion of American forces.
Rouhani said, "Since 2003, the Americans have been claiming that they have salvaged Iraq and Afghanistan; but if this claim is true, then why don't you openly make an official trip to see how the Iraqis would welcome you on the streets of Baghdad and Basra?"
"I hope these are lessens to be taken by the White House for the year 2019, and to stop interfering with the lives of nations."
Rouhani's visit is considered a milestone in ties between Iran and Iraq at the current juncture in history by many commentators. It won great attention by international media outlets.
Experts have said efforts by the Trump administration to reduce ties between Tehran and Baghdad is futile because Iran and Iraq are closely interlinked in terms of economy, religion, and culture.
Iran was the first country which recognized the Iraqi government after the downfall of Saddam Hussein's regime in 2003.
According to Iran's Ambassador to Baghdad Iraj Masjedi, Iran and Iraq are eying a $20-billion trade.
Later the day, Rouhani met Prime Minister Abdul-Mahdi before accompanying delegations discussed and signed agreement on a wide range of issues, including the Khorramshahr-Basra railway project, establishment of industrial zones, customs relations, cooperation in health sector, and the enactment of 1975 Algiers Agreement.
The 1975 Algiers Agreement (commonly known as the Algiers Accord, sometimes as the Algiers Declaration) was an agreement between Iran and Iraq to settle their border disputes and conflicts (such as the Arvand Rud), and it served as basis for the bilateral treaties signed on 13 June and 26 December 1975.
The two countries signed an agreement to bilaterally remove visa fees starting April.
Salih: Iraq will seek to remove obstacles in ties with Iran
Speaking during a joint press conference with Rouhani in Baghdad on Monday, Salih said Baghdad will work towards removing obstacles to boost cooperation with Iran.
"This gives me a precious opportunity to thank our dear guest for Iran's role and help in Iraq's great victory over Daesh (ISIS)," the Iraqi president noted.
"Shared security is one of the areas where greater cooperation between Tehran and Baghdad is needed, as well as cooperation with all regional countries to improve peace and security and ensure common interests in the face of deviant thoughts and terrorist groups."
Iran rushed to the help of Iraq when Daesh made rapid and sudden attacks on Iraq in June 2014 after capturing large swathes of territory in Syria.
Rouhani: Iraq's security is important to Iran
For his part, Rouhani said, "I had very positive and constructive talks with Iraq's president and did not see any point of disagreement in the issues discussed."
"Improving ties between the two countries is in the interest of Tehran and Baghdad and we will not let the development trend be stalled."
He added that Iran attaches great significance to security and democracy in Iraq because "stability in Iraq and the improvement of security in this country will benefit regional peace and stability."
SP/PA