By Mohammad Homaeefar
Iraq criticizes policies of self-centered countries against Iran
March 18, 2019 - 21:46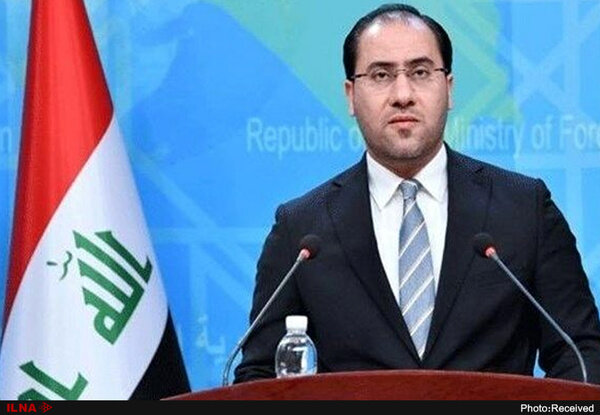 TEHRAN – Iraqi Foreign Ministry spokesman Ahmed al-Sahhaf has highlighted his country's national sovereignty, saying Iraq will never let other countries use its soil in order to harm neighbors or any other country around the world.
Al-Sahhaf made the remarks when asked by ILNA to comment on recent remarks by U.S. President Donald Trump who had said he was keeping American troops in Iraq to be able to "watch Iran".
Trump's remarks provoked a backlash from Iraq, with President Barham Salih saying Trump did not ask permission to station U.S. troops in Iraq to "watch Iran".
"We regard the security of Iraq's neighboring countries, especially the Islamic Republic of Iran, as Iraq's own security," al-Sahhaf said, ILNA reported on Monday.
"The [Iraqi] Foreign Ministry has always criticized the policies of the self-centered countries and will not act accordingly," the spokesman remarked.
Because, he continued, "in our view, the policies of the self-centered countries have not built confidence and have not strengthened the logic of dialogue."
On President Hassan Rouhani's recent visit to Iraq, al-Sahhaf said the trip was a big and important development which will have positive impacts on the two friendly and brotherly countries.
Rouhani's visit will boost the two sides' security, sovereignty and independence and will prevent any foreign interference in their internal affairs, he asserted.
During Rouhani's visit to Iraq on March 11-13, five memorandums of understanding (MOUs), including an agreement on building a cross-border railway, and one on easing travel conditions, and 22 agreements in various areas of trade and industry cooperation were signed.
The visit was hailed for sending a strong message to the U.S. and its regional allies that Iran still enjoys support in Iraq in spite of the sanctions.
MH/PA