By Mehdi Sepahvand
Senior officials meet, focus on floods  
April 14, 2019 - 20:11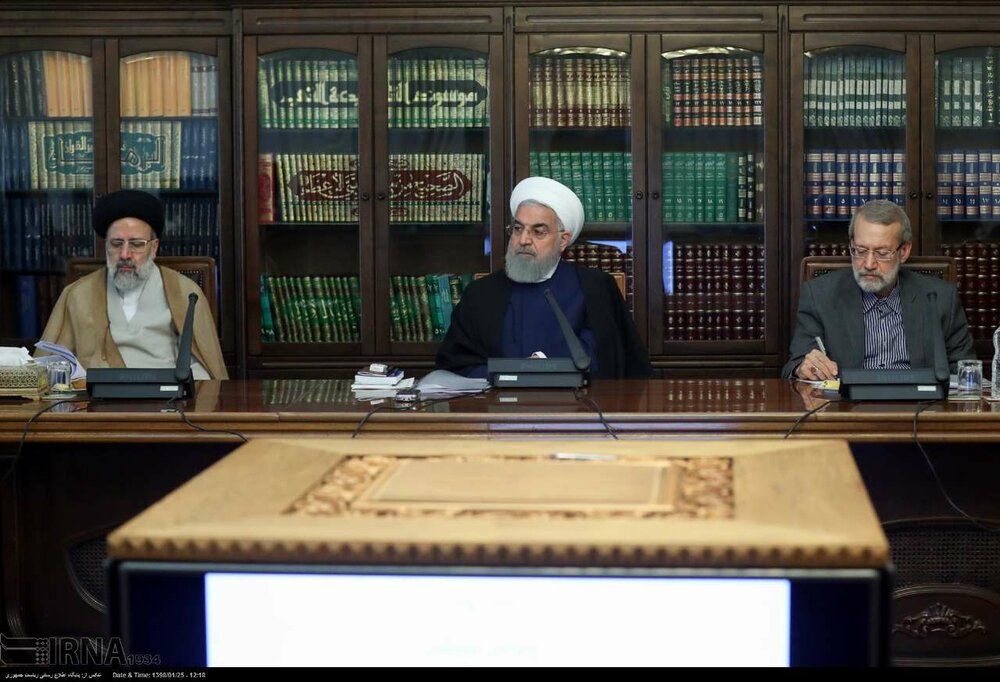 TEHRAN – Heads of the legislative, executive, and judicial branches of the government held a meeting for the coordination of economic affairs in Tehran on Sunday.
According to the Islamic Republic News Agency, in addition to Majlis Speaker Ali Larijani, President Hassan Rouhani, and Judiciary Chief Ebrahim Raisi, the meeting was also attended by the vice president, central bank governor, oil minister, economy minister, Planning and Budget Organization chief and some other officials.
High on agenda of the meeting was the recent floods that affected large parts of Iran.
During the session, Rouhani, Raisi, and Larijani emphasized the need to join efforts to relieve the pains of people who have been affected by the floods.
They also stressed the need for all Iranians to receive natural disaster insurance and discussed the ways of providing the financial bases of it.
Floods hitting Iran since March 19 have been highly devastating especially in the provinces of Golestan, Mazandaran, Lorestan and Khuzestan.
According to officials, more than 227,000 people surviving the floods were provided with emergency accommodation.
Army, Islamic Revolutionary Guard Corps (IRGC), and Basij have collectively attempted to provide services to the flood victims.
Heavy rainfall, beginning on March 19, has led to flooding in 28 out of 31 provinces. It has affected 42,269,129 inhabitants in 253 cities and causing widespread damage to municipal facilities, including health centers and hospitals.
Many health facilities in affected areas are either fully or partially damaged, and the risk of water and vector-borne diseases, including malaria, cholera and other communicable diseases is increasing, also due to the interruption of the water supply.
Following devastating flood hitting Iranian provinces some 1,660,100 individuals are in need of healthcare services in areas where the floods have left 76 people dead and 1,137 injured. As many as 295,787 people have been displaced.
SP/PA