By Mohsen Mohammadi
Indonesian reciter Salman Amrillah finishes first at Iran Quran competition 
April 15, 2019 - 18:18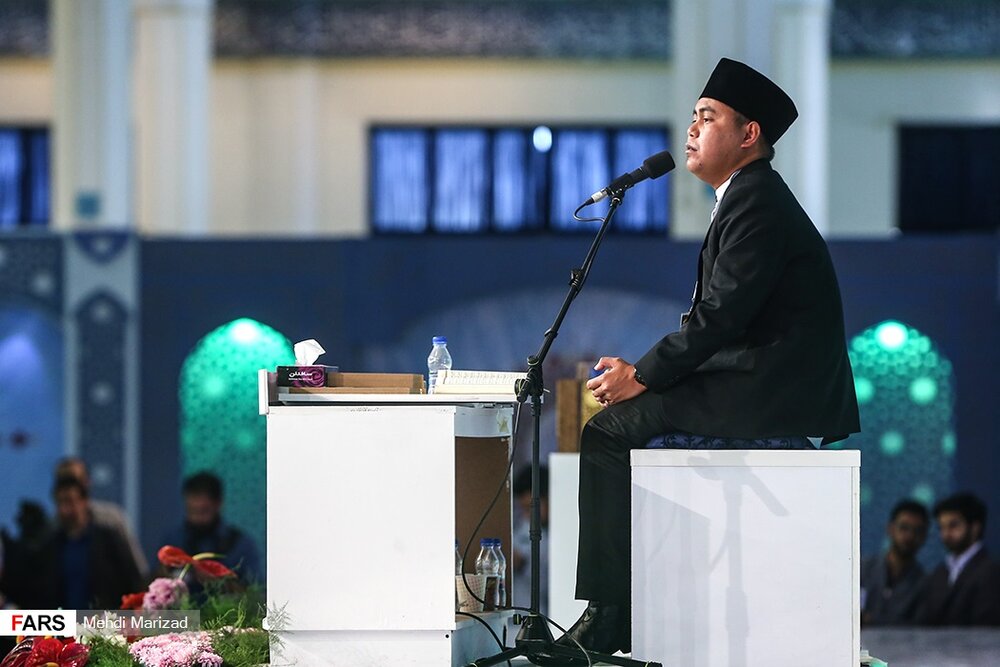 TEHRAN – Indonesian reciter Salman Amrillah won first prize at the 36th International Quran Competition in Tehran on Sunday.
Winners of the competition in various categories received their prizes during the closing ceremony of the event at Tehran's Imam Khomeini Mosalla.
In the reciting section, Mehdi Gholamnejad from Iran received second prize while Iraqi reciter Muhammad Reza Salman took third place.
In the memorizing category, Mohammad-Javad Moradi from Iran won first prize and Abuli Toufeeq from Algeria was honored with second prize. Third prize went to Syrian memorizer Ahmed Badreddin Hamami.
In the women's section, Maryam Shafiei from Iran, Fatima Yunis from Lebanon and Samaneh Musavi from Afghanistan took first to third places respectively in the memorizing category.
Visually-impaired memorizers Al-Sayyid Hamdi al-Sayyid from Egypt, Saeid Ali-Akbari from Iran and Sayyid Nur ul-Haq from India were also honored.
Muhammad Haji from Kenya and Amir-Hossein Rahmati from Iran won the first prizes in the memorizing and reciting sections respectively at the 6th International Quran Competition for School Students, which was held on the sidelines of the event.
Ali Feizi from Iran and Mahmud Abul Khair an-Nasif from Syria also received second and third prizes in the memorizing section.
In the reciting section, Seyyed Yasin Hosseini from Afghanistan and Muhammad Rafghas Hawari from Indonesia took second and third places respectively.
In the memorizing section for schoolgirls, Zeinab Aminpur from Iran won first prize, and Faiza Nargis from Turkey and Reem al-Shebel from Jordan took second and third places.
Photo: Salman Amrillah from Indonesia recites during the closing ceremony of the 36th International Quran Competition at Tehran's Imam Khomeini Mosalla on April 14, 2019. He won first prize at the competition. (Fars/Mehdi Marizad)
MMS/YAW