Trump administration ignoring intl. law, Zarif says
April 17, 2019 - 20:1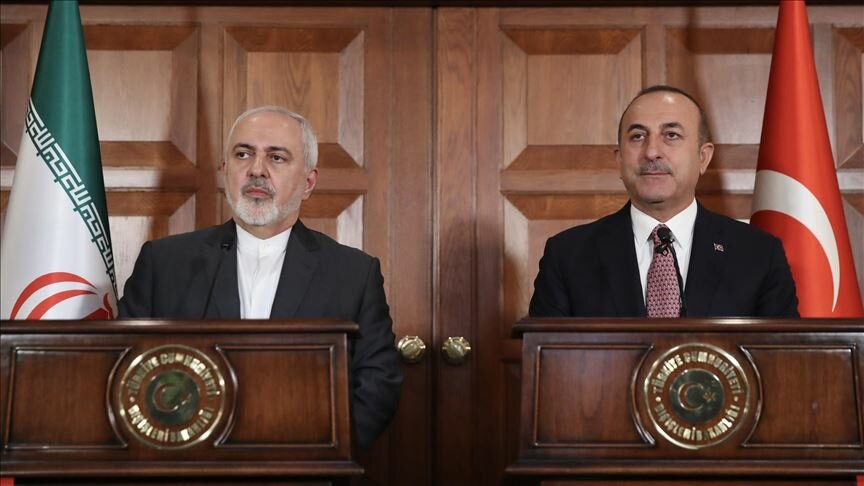 TEHRAN – Iranian Foreign Minister Mohammad Javad Zarif said on Wednesday that the Donald Trump government is ignoring international law.
During a joint press conference with Turkish Foreign Minister Mevlut Cavusoglu in Ankara, Zarif said that Iran and Turkey believe that law should be respected in all areas.
According to Anadolu Agency, Cavusoglu said that Turkey will continue telling the U.S. that sanctions on Iran are "wrong".
"Our ministers expressed Turkey's concerns to U.S. counterparts in a recent meeting," he said, referring to Treasury and Finance Minister Berat Albayrak and Trade Minister Ruhsar Pekcan, who visited Washington and met with top U.S. officials, including President Donald Trump, on Monday.
Trump sees no limit for his hostile approach toward Iran. In addition to withdrawing the U.S. from the international nuclear deal in May last year and illegally reimposing sanctions on Iran, his country has even prevented humanitarian aid to Iranian flood victims by freezing the accounts of the Iranian Red Crescent Society.
This happened despite the fact that the UN Security Council adopted a resolution in July 2015 endorsing the nuclear deal, officially known as the Joint Comprehensive Plan of Action (JCPOA). The International Atomic Energy Agency (IAEA), which has been tasked to police the implementation of the JCPOA, has also issued 14 reports each time confirming that Iran is fully abiding by the terms of the agreement.
Kazakhstan to host next round of Syria talks
At the press conference, Zarif also pointed to his meeting with Syrian President Bashar al-Assad in Damascus on Tuesday, saying that efforts to promote peace and stability in Syria will continue unabated.
He said that next round of the Astana talks on the Syrian crisis will be held in the Kazakh city of Nur-Sultan.
Asked on relations between Iran and Turkey, he said the volume of economic interaction between the two countries should reach $30 billion.
He noted that Tehran will not let the U.S. affect its economic interaction with other countries.

NA/PA