Situation in the region would have been different if Army and the IRGC had not fought Daesh'
Leader hails Army-IRGC brotherhood vs. U.S. 'ugly move'
April 17, 2019 - 20:7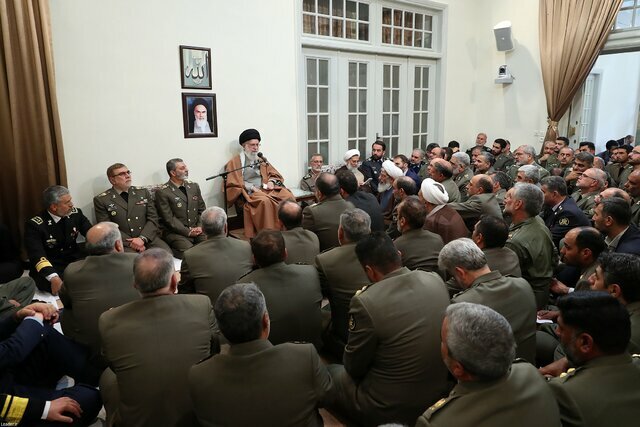 TEHRAN – Leader of the Islamic Revolution Ayatollah Ali Khamenei on Wednesday hailed the gesture of brotherhood shown by the Army and the Islamic Revolution Guards Corps (IRGC) as a "beautiful move" against the United States' "ugly move".
"Doing anything that makes the enemy angry is good and correct, and on the contrary, everyone should avoid doing anything that emboldens the enemy and boosts its morale," the Leader said.
Ayatollah Khamenei made the remarks in a meeting with commanders and senior officials of the Army as well as a group of commanders and staff members of the Army Ground Force, ahead of National Army Day.
It came days after the United States officially designated the IRGC as a foreign terrorist organization, following U.S. President Donald Trump's announcement of the designation a week earlier.
The Leader also dismissed as baseless remarks by certain U.S. officials who claimed Iran appeared weak and vulnerable to severe flash floods, saying such remarks are made to demoralize the public.
"America is struggling with thousands of billions [of dollars] of debt and numerous difficulties and despite passage of several years since the floods and storms in areas like Carolina, they still have not been able to deal with those problems…, but they're talking nonsense in order to destroy the Iranian nation's morale."
He also praised the actions taken by the Iranian nation, Army, IRGC, Basij, clerics and students to help the victims of the recent flooding in the immediate aftermath of the tragic incident.
"But the enemy does not deem it expedient to utter this greatness," he added.
Elsewhere in his remarks, the Leader said the fate of certain regional countries would have been different if the Army and the IRGC had not entered the war against ISIS also called Daesh in its Arabic acronym.
He asked: "How was the situation today in the region and neighboring countries and who would have ruled them if the Army and the Guards had not entered the war against Daesh,"?

However, Ayatollah Khamenei said each of the countries caught in the war against Daesh made sacrifices "but the role of the Iranian armed forces is not negligible."
MH/PA