Reducing nuclear commitments is Iran's 'unchangeable strategy', Shamkhani tells French envoy
July 10, 2019 - 14:51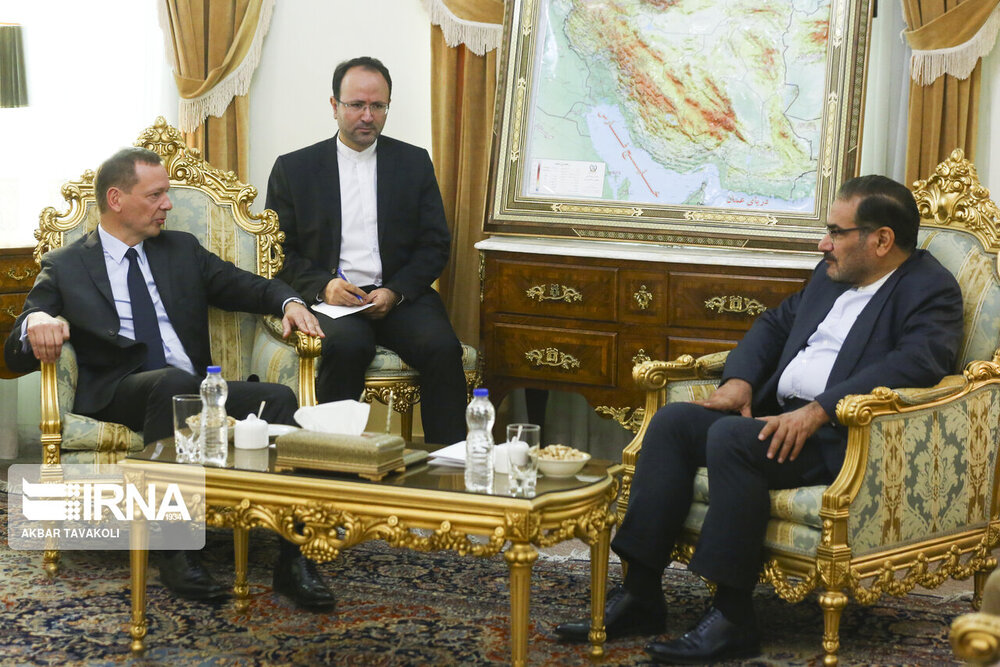 TEHRAN - Ali Shamkhani, secretary of Iran's Supreme National Security Council, said on Wednesday that Iran's moves in reducing its nuclear commitments in retaliation to the return of sanctions is an "unchangeable strategy".
Shamkhani made the remarks during a meeting with Emmanuel Bonne, the special diplomatic advisor to the French president, who visited Tehran in efforts to salvage the nuclear deal, formally known as the Joint Comprehensive Plan of Action (JCPOA).
"This path will be continued within the framework of paragraphs 26 and 36 of the JCPOA," Shamkhani said.
Paragraph 36 provided a mechanism to resolve disputes and allows one side, under certain circumstances, to stop complying with the deal if the other side is out of compliance.
Shamkhani said Europe lost one year of opportunity by Tehran to guard Iran against U.S. sanctions and criticized Europe for showing no strong will to counter the United States' "destructive measures" against the JCPOA.

"Given Europe's failure to use the one-year opportunity by Iran which conducted the deal unilaterally, our country's definite decision in implementing its obligations will be commensurate to the other side's actions," Shamkhani stated.
In addition to China and Russia, France, Britain, Germany and the European Union in large are the remaining parties to the JCPOA.

Under the JCPOA signed in 2015, Iran agreed to put limits on its nuclear commitments in exchange for termination of economic and financial sanctions.
However, the U.S. withdrew from the agreement on May 8, 2018. Immediately after the U.S. quit the agreement, European companies left Iran and European banks cut ties with Iran.
The Trump administration has imposed the toughest ever sanctions, including a total oil embargo, against Iran, something which is called "economic war".

Iran waited for a year that Europe devise a mechanism to shield the country from sanctions. However, on May 8, exactly one year after the U.S. abandoned the deal, Iran's Supreme National Security Council (SNSC) declared Iran's partial suspension of nuclear commitments and gave Europe 60 days to come up with a plan for economic dividends of the JCPOA, including oil purchases, otherwise Iran will take the next step.
Seeing no tangible action on the part of Europe, on Sunday, July 7, Iran took the second step by deciding to increase the purity of nuclear enrichment capped at 3.67 percent to 4.5 percent. On July 7, Iran again gave Europe another 60-day time to come up with a concrete plan for trade ties unless Iran will take the third step.
Europe has presented a mechanism, called INSTEX, for trade with Iran but it far short of Europe's obligations based on the JCPOA. It only allows sale of medical equipment, medicine, and food, items which are not subject to sanctions.
"Defeated strategy"
The security chief also called the U.S. policy of maximum pressure on Iran a "defeated strategy".
"Iran has proven practically that it has the political, economic and defense capacities to counter tension and challenges. No one can talk to such country with this characteristics with the language of force," Shamkhani asserted.
Elsewhere, he said that the U.S. has taken Europe's independence "hostage, urging the European Union to defend its identity and independence against the U.S. unilateralism.
French envoy says carries no message from U.S.
Bonne, for his part, said, "I have not come to Iran as a mediator and I carry no message of the U.S. for Iran."
He said that France is aware of Iran's power in resisting sanctions and pressure over the past four decades.
Bonne added that Iran has made remarkable growth over the past 20 years despite U.S. actions.
He said French President Emmanuel Macron seeks a "ceasefire in the U.S. economic war against Iran" which he believes will de-escalate regional tension.
He also said that Paris is interested in talks with Tehran over regional crises given Iran's "undeniable role and influence in the region".
The French envoy also met with Foreign Minister Mohammad Javad Zarif later on Wednesday.
During the meeting, Zarif and Bonne exchanged views about various topics, including ways to boost relations between Iran and France and the latest regional and international developments.

NA/PA