Iran, Azerbaijan stress bolstering joint investments
October 9, 2019 - 16:57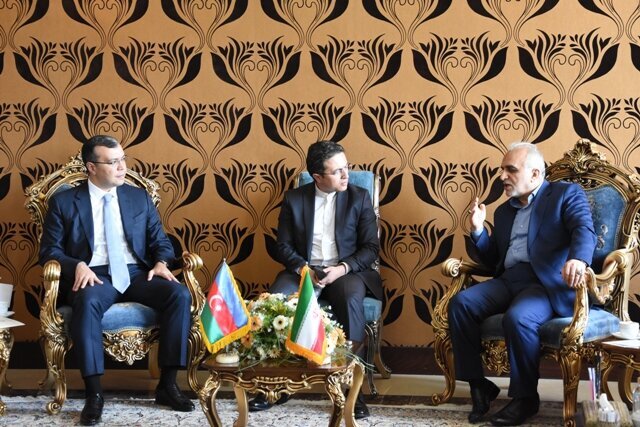 TEHRAN – Iranian Finance and Economic Affairs Minister Farhad Dejpasand and Azeri Minister of Labor and Social Protection of the Population Sahil Babayev met on Tuesday to discuss ways of boosting trade ties, Shada reported.
In the meeting which took place at the place of Iranian ministry, the two sides stressed bolstering joint investment and mutual economic collaboration as ways of boosting trade ties between the two neighbors.
Mentioning the two countries' shared backgrounds and good political relations, Dejpasand said: "A shared history and cultural background alone is not enough to sustain the two countries' positive relations, and we also need joint economic activities to maintain our good relations."
He further stressed the need for strengthening economic relations between the two countries, saying "development of joint ventures and mutual trade are two pillars of the bilateral relations between Iran and the Republic of Azerbaijan."
"The Islamic Republic of Iran has good capacities for cooperation with Azerbaijan in the fields of investment, customs, taxation, and insurance, which can be tapped on within the framework of the two countries' joint economic committee's activities," he added.
The Azeri minister for his part expressed satisfaction with his visit to Iran, and referred to the common religion, language and history with Iran.
He pointed to the numerous meetings between the presidents of the two countries in the past five years as indications of the two countries' willingness for promoting comprehensive relations.
Referring to the 70-percent growth in the volume of trade between Iran and Azerbaijan, he said: "Certainly the activities of the two countries' joint committee will deepen and accelerate the economic cooperation between the two sides."
EF/MA