Mourners bid farewell to General Soleimani in his hometown
January 7, 2020 - 12:9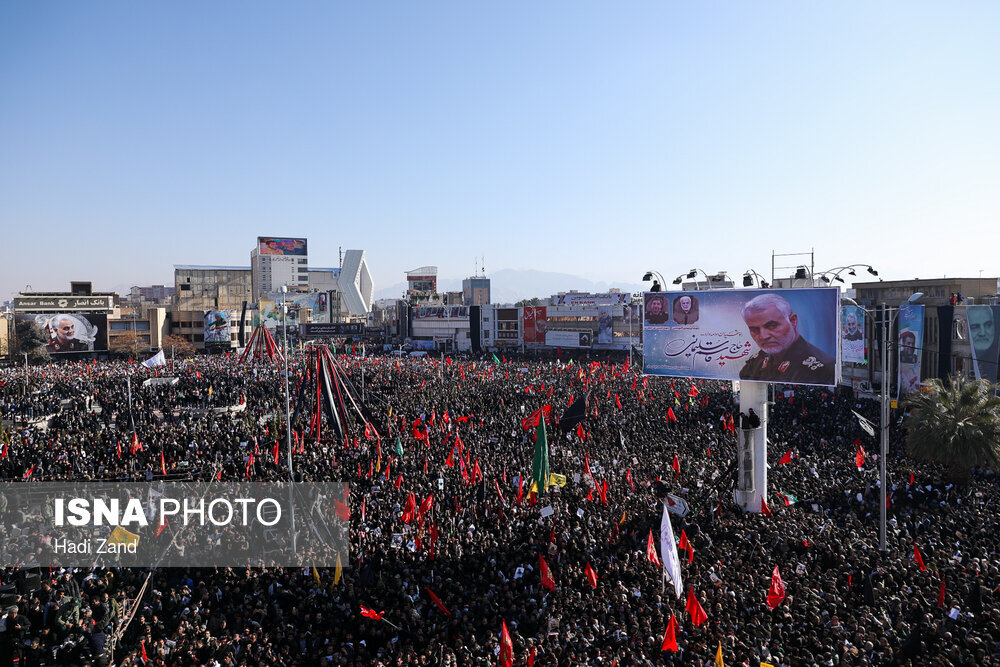 KERMAN — Millions of mourners took to the streets in Iran's southeastern city of Kerman, the hometown of Lieutenant General Qassem Soleimani, to attend the top general's burial ceremony.
Millions of heartbroken mourners took the streets in the southeastern city of Kerman to say their last goodbye to Lieutenant General Qassem Soleimani.
The burial ceremony in Kerman, the hometown of the top general, was postponed due to overcrowding. However, the hero general was going to be laid to rest on Tuesday night.
Tens of people were also killed and many more were injured in a stampede during the funeral procession.
General Soleimani was brutally assassinated by a U.S. military airstrike on Friday morning during a visit to neighboring Iraq.
His remains arrived at Kerman airport, after massive funeral processions were held in the Iraqi cities of Baghdad, Karbala and Najaf and the Iranian cities of Ahvaz, Mashhad, Tehran and Qom.
Millions of mourners packed the streets of Tehran on Monday to bid farewell to Soleimani, who headed Iran's IRGC Quds Force, and chanted "Death to America".
According to the Pentagon, General Soleimani was assassinated on Donald Trump's order.
The U.S. airstrike also martyred Abu Mahdi al-Muhandis, the deputy commander of the Iraqi Popular Mobilization Forces (PMU).
Iran has vowed to take a "tough revenge" for Soleimani's blood.
On Saturday, Trump claimed that his military would hit "very important" targets, including cultural heritage sites, if the Iranians want to take a retaliatory action against the assassination of General Soleimani.
"We have ... targeted 52 Iranian sites (representing the 52 American hostages taken by Iran many years ago), some at a very high level & important to Iran," said Trump in a tweet while making a reference to the seizure of the U.S. embassy in Tehran in 1979 during which 52 Americans were taken hostage.
Foreign Minister Mohammad Javad Zarif on Sunday responded to Trump, saying, "Through MILLENNIA of history, barbarians have come and ravaged our cities, razed our monuments and burnt our libraries."
However, Zarif added, "Where are they now? We're still here, & standing tall."
From the early hours of Tuesday, large crowds of black-clad mourners began filling the streets of Kerman to pay their respects to the Middle East's most prominent anti-terror commander.
Chants of "Death to America" have been ringing out across the city, with mourners carrying the portraits of the national hero.
General Soleimani is viewed by the world as the key figure in the Middle East battles that led to the collapse of Daesh (ISIS), the world's most notorious terror group.
A separate mass funeral was also held for Muhandis in the southwestern city of Abadan, from where his body will be transferred to Khorramshahr and Shalamcheh in Iran's Khuzestan Province for similar mourning ceremonies.
Addressing the mourners in Kerman, Major General Hossein Salami, chief of the IRGC, condemned the U.S. military's "cowardly" assassination.
"I start with the last word. We will take revenge. Our revenge will be harsh, decisive and finishing. Stay assured and calm," the IRGC chief said.
"The general's martyrdom is a starting point for an early end to America's presence in the Muslim world. I declare that you will see this happen very soon," he added.
MH/PA