Iran's National Orchestra performs hits during home quarantine
May 4, 2020 - 18:35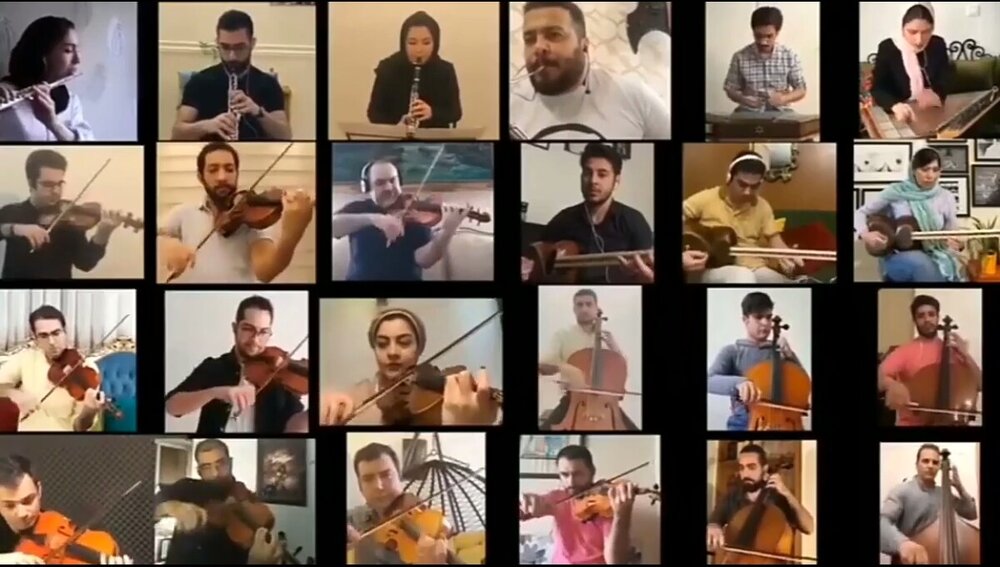 TEHRAN – Members of Iran's National Orchestra invited people to watch the videos of famous hits "Sabokbal" and "Romantic Passion" in their houses during home quarantine to appreciate efforts made by the healthcare staff.
Each musician recorded a video of her/his performances of composer Hossein Dehlavi's "Sabokbal" and Morteza Neydavud's "Romantic Passion" in an innovation by the Rudaki Artistic Cultural Foundation. The two videos were produced based on the videos recorded by each musician.
Promoting the motto "We Stay Home in Order to Go on Stage Sooner", the first performance was released online on April 9 at TVA, the Iranian video sharing and film streaming website, and the second was released last week.
Composer and tar player Masih Tahvildari who took part in the project said that the orchestra canceled rehearsals from the very beginning of the spread of the coronavirus in the country.
"Before the difficult coronavirus days, we used to sit on stage and people came to watch our performances, however this time we decided to do something different and go to their houses," he said.
"The members under the supervision of a council decided to choose 'Sabokbal', which was not too long, and we heard the performance was warmly welcomed by our people," he added.
Sayori Shafiei, who plays clarinet, said that Vahid Taaj collaborated in the second composition "Romantic Passion" because the orchestra wanted to record a composition that had lyrics.
Bassoon player Amirhossein Mohammadian explained that each performance was recorded at home using cellphones, and they found out the performances were warmly received inside and outside the country.
Photo: Members of Iran's National Orchestra perform Hossein Dehlavi's "Sabokbal" in an online project.
RM/MMS/YAW