Trump's insults will unify Iranian nation: Kamal Kharrazi
October 11, 2020 - 12:51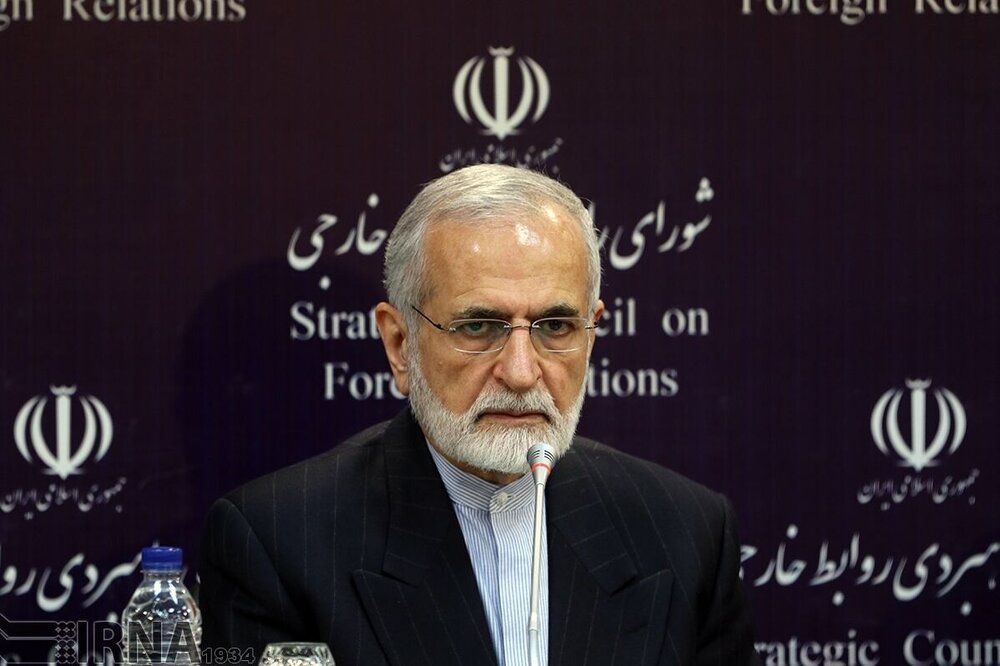 TEHRAN — Kamal Kharrazi, the head of Iran's Strategic Council on Foreign Relations, has said U.S. President Donald Trump's insults against the Iranian nation will unify the people to defend their country.
"When Trump insults a nation, such insult does not cause disunity, but rather people from all factions, beliefs and attitudes will become more united," Kharrazi said in an interview with IRNA published on Sunday.
It came after U.S. President Donald Trump used the F-word to warn Iran against doing what he called "something bad" to the U.S.
"Iran knows that, and they've been put on notice: if you f**k around with us, if you do something bad to us, we are going to do things to you that have never been done before," Trump told conservative radio host Rush Limbaugh.
Trump also repeated his claim that if he wins the November 3rd election, he will reach a new deal with Iran within a few weeks.
Kharrazi said the U.S. cannot reach its goal by insulting the Iranian people, but rather the insults will cause the people to become more aware and more unified in the face of the United States' bullying.
Trump's recent remarks well illustrate the depth of his ferocity, the former foreign minister remarked.
"Trump's insult is a sign of his anger and dissatisfaction of the inefficiency of sanctions and of not reaching his goal with regarding to Iran," he added.
Foreign Ministry spokesman Saeed Khatibzadeh has also responded to Trump's remarks, saying Iran is not afraid of the U.S.'s "bullying rhetoric."
"The Iranian people aren't intimidated by the bullying rhetoric of the failing & lawless U.S. regime," Khatibzadeh tweeted on Friday night.
The spokesman also pointed to U.S. sanctions and the assassination of a top Iranian general earlier this year, saying Iran will respond to these "U.S. crimes".
Khatibzadeh added, "WE will choose response to US crimes— including sadistic sanctions & criminal assassination of ISIS #1 enemy Gen. Soleimani."
On Saturday night, former Foreign Ministry spokesman Abbas Mousavi reminded the U.S. president of the futility of threatening Iran during the last days of his tenure at the White House.
"If I were Mr. Trump, I DID NOT threaten a peace-loving but warrior NATION, Iran, in my last days in 1600 Penn," tweeted Mousavi, who is currently Iran's ambassador to Azerbaijan.
Elsewhere in the Sunday interview, Kharrazi pointed to Washington's latest sanctions on Tehran, saying the U.S. wishes to bring Iran to its knees through the newly announced sanctions.
Kharrazi, who was foreign minister from 1997-2005, said the White House sought to bring about the collapse of the Islamic Republic by pursuing the "maximum pressure" policy against Iran.
"Fortunately, due to the people's resistance, the White House didn't reach its goal," former chief diplomat added.
On Thursday, the Trump administration announced it had imposed new sanctions on Iran's financial sector in defiance of Washington's European allies who warned of the humanitarian consequences of the sanctions on Iran's fight against the coronavirus.
The new sanctions target the few remaining Iranian banks which were not subject to secondary sanctions.
In a tweet, U.S. State Secretary Mike Pompeo announced that the United States is sanctioning 18 major Iranian banks and identifying Iran's financial sector.
U.S. Treasury Secretary Steven Mnuchin said the designation of 18 Iranian banks "reflects our commitment to stop illicit access to U.S. dollars."
Iran's Foreign Minister Mohammad Javad Zarif said the United States is seeking to blow up Iran's remaining channels to pay for food and medicine.
"Amid Covid19 pandemic, U.S. regime wants to blow up our remaining channels to pay for food & medicine," Zarif tweeted on Thursday. "Iranians WILL survive this latest of cruelties."
He described conspiring to starve the Iranian population as a "crime against humanity", adding, "Culprits & enablers—who block our money—WILL face justice."
MH/PA