By Faranak Bakhtiari
Drought, habitat destruction jeopardizing wildlife
October 2, 2022 - 17:35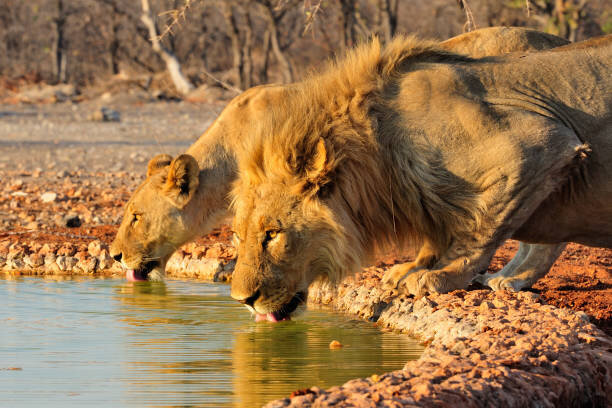 TEHRAN – Climate change, drought, and the destruction of natural habitats are among the most important threats to wildlife.
World Wildlife Day is celebrated annually on October 2-8, this year's theme is "Recovering key species for ecosystem restoration", as a way to draw attention to the conservation status of some of the most critically endangered species of wild fauna and flora.
An ecology expert Abdollah Salari pointing to the importance of key species highlighted that the only way to protect the key species is through culture promotion.
Keystone and umbrella species are ecologically very important for the people and culture of their local community for various reasons. As they cover other species and bring them under their protective umbrella. In this way, the protection of other species and the entire ecosystem is done much better, he explained.
Most carnivores are considered keystone species. For example, the cheetah is a key species because it is at the top of the ecological pyramid, it is important for society's culture, and it is also a carnivore.
The umbrella species are indirectly involved in the conservation of many other species at the ecosystem or landscape level while the keystone species are the species that play disproportionately a larger role in the prevalence and population levels of other species within their ecosystem or community.
Each ecosystem has its own key species that are not necessarily carnivores. As an example, in Lorestan, the Luristan newt is a key and endangered species of that ecosystem, he said.
He went on to state that key species are not necessarily in danger of extinction, but unfortunately, most of them are usually endangered.
As an example, the panda is an iconic species in terms of appearance and ideology, but at the same time, in danger of extinction. The panda is a typical example of an umbrella species that can support other species in the ecosystem, he said.
The Asiatic cheetah is present in desert ecosystems such as Turan and Miandasht wildlife sanctuaries. By highlighting the cheetah in these areas, all species are supported and protected, he said.
Road construction, mining, excessive livestock, power transmission lines, agricultural lands, and rainfed farming are challenges that threaten wildlife species, and off-roading is one of the modern challenges that need to be managed, he said, referring to climate change, drought, and destruction of natural habitats as the most important threats.
Pointing to ecology and wildlife management as one of the most fundamental challenges of pastures and wildlife, he said that excessive grazing and zoonotic diseases are is another danger for wildlife.
Salari presented his suggestions for the recovery and preservation of key species and explained that culture and research are very important.
Ecosystems have ecological, genetic, social, economic, scientific, educational, cultural, recreational, and aesthetic values. In all aspects, we must consider ecosystems for sustainable development because there is a need for development.
It is not practicable to only protect the ecosystem and not to exploit it, but what matters is the sustainable exploitation and the benefit of the native and local communities, which has not so far been done in the country, he lamented.
Persian species in danger
Iran has a high diversity of species due to geographical conditions, climatic diversity, huge water resources of the Caspian Sea in the north and the Persian Gulf, and the Sea of Oman in the south.
According to the latest studies, about 1,300 species of vertebrates, including mammals, birds, reptiles, amphibians, and aquatic fish, about 30,000 species of invertebrates, and 8,000 species of plants have been identified in the country.
Unfortunately, over the past two decades, human activities have led to the alarming degradation of ecosystems, and the deletion of genes, species, and biological capabilities; Human threats to biodiversity have accelerated the most over the past 50 years over the entire history of human life.
Out of 1,300 species of animals in the country, 130 of which are endangered and threatened, Hassan Akbari, deputy head of natural environment and biodiversity of the Department of Environment, said in December 2021.
According to the IUCN, at least 40 percent of animals, insects, and plants are at risk of extinction across the world.
Currently, more than 41 percent of amphibians, 26 percent of mammals, 21 percent of reptiles, and 13 percent of birds are threatened. In the latest statistics, the number of endangered species in the country is 75 vertebrate species (18 species of mammals, 29 species of birds, 4 species of amphibians, and 16 species of reptiles) on the IUCN Red List.
FB/MG