Iran FM visits Armenia, says Iran opposed to changes in internationally-recognized borders
October 21, 2022 - 18:54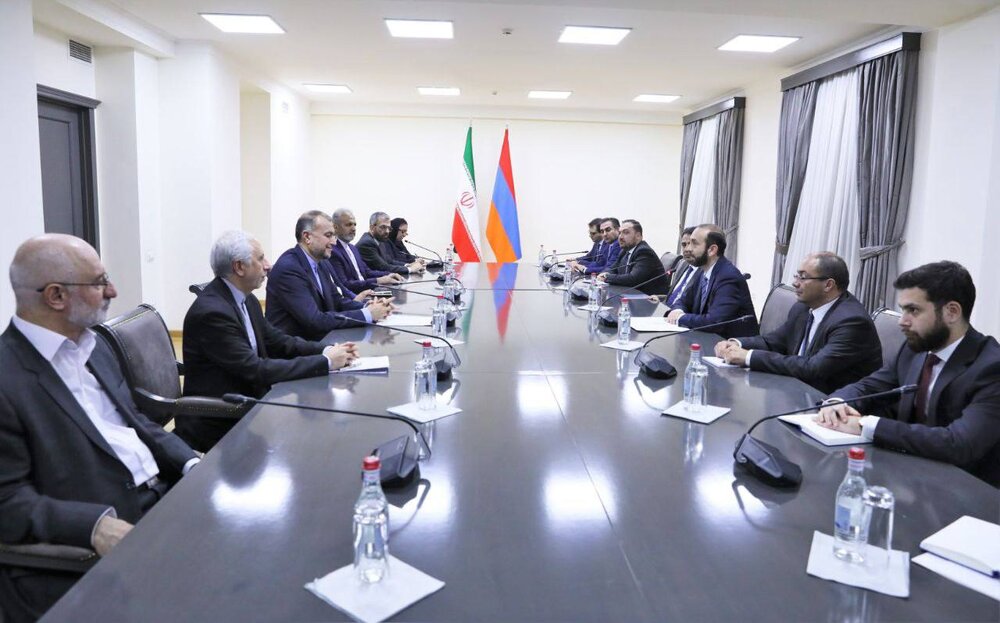 TEHRAN- Iran's objection to the adoption of any modifications to the internationally recognized borders of the regional countries is reiterated by Foreign Minister Hossein Amir Abdollahian
Amir Abdollahian made the comments on Thursday in a meeting with Ararat Mirzoyan, his Armenian counterpart, in Yerevan.
At Mirzoyan's request, the top diplomat from Iran led a political trip to the capital of Armenia.
The Iranian official stressed the Islamic Republic was "unequivocally opposed" to any breach of the formal borders of the regional states when speaking with Mirzoyan about regional developments.
He referred to Iran's opposition to crossing regional boundaries as the nation's "principled perspective".
The comments were made in the midst of yet another fatal flare-up involving the disputed Nagorno-Karabakh territory between Armenia and its estranged neighbor Azerbaijan.
Although Nagorno-Karabakh is universally recognized to be a part of Azerbaijan, ethnic Armenians have long inhabited the region.
An escalation in the two neighbors' simmering tensions last month resulted in the deaths of over 100 troops on both sides. This was the most recent confrontation between the Caucasus countries since a 44-day war over the region that terminated in November 2020 and claimed hundreds of lives.
In a meeting with Georg Papuyan, the head of the Iran-Armenia parliamentary friendship group, in Tehran earlier this month, Amir Abdollahian had also emphasized the position.
The subject of the bilateral connections was also covered by the officials from Iran and Armenia during their meeting on Thursday.
Amir Abdollahian spoke about the long-standing links between the nations, highlighting the necessity for their "redefinition" in a variety of contexts, particularly in the sphere of "economic and transit cooperation."
According to Foreign Minister Amir Abdollahian, given the capacity available to either country, the present $700 million level of bilateral commerce might increase to $1 billion.
The chief Armenian diplomat, for his part, expressed appreciation for the Islamic Republic's positions on a number of regional issues.
He also emphasized the need to maintain and expand mutual ties, particularly with regard to transportation cooperation along the North-South corridor.