By Mehran Shamsuddin
Western online dictatorship
October 30, 2022 - 20:49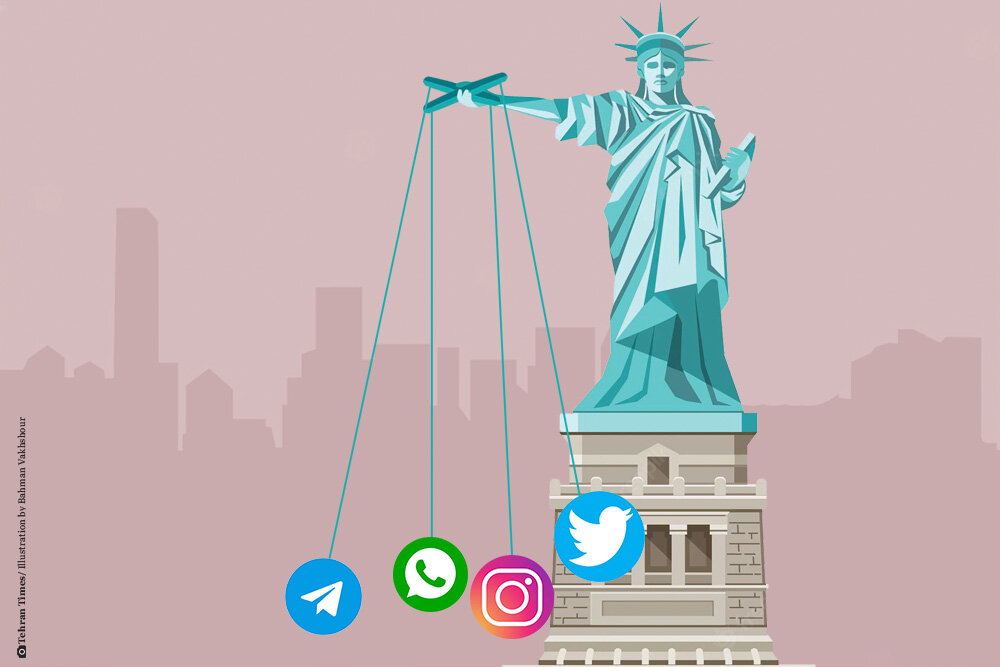 TEHRAN – The West's monopoly over social media and virtual space has raised concerns across the globe due to its authoritarian practices in times of crisis.
The recent wave of unrest that engulfed Iran in the wake of the death of Mahsa Amini once again showed the consequences of Western control over social media platforms. While the early Mahsa Amini protests were spontaneous and peaceful, unidentified social media accounts quickly incited violence and hatred toward law enforcement forces. As a result, the protests turned violent in a matter of a few days.
Facing a huge amount of incitement to violence on social media, the Iranian government quickly moved to restrict access to the internet. Internet restrictions were gradually lifted, but incitement continued unabated, which pushed the government into permanently banning some of the popular social media platforms.
While the imposition of restrictions on access to internet services is globally commonplace in times of crisis, the West vehemently inveighed against Iran's measures in this regard.
The Biden administration was quick to issue a license allowing American tech giants to export communication tools to Iran. Starlink is a case in point. A recent statement by two major Iranian intelligence agencies indicated that Iran believes that Western intelligence services are now involved in smuggling Starlink terminals to Iran, a move that some in Tehran believe will violate Iran's internet sovereignty.

However, this level of violation seems not to be enough in the eyes of U.S. officials, who are now urging tech companies to do more.
"A bipartisan group of lawmakers urged Google, Amazon Web Services, and other tech companies Thursday to expand access to online tools and services for Iranian protestors after the U.S. Treasury Department relaxed restrictions last month," Axios reported on Sunday.
This comes at a time when the U.S. itself resorted to imposing restrictions on internet services and social media platforms in times of crisis. Twitter permanently blocked former U.S. President Donald Trump after his supporters invaded the U.S. Congress.
Aside from this kind of double standard, U.S. tech companies have moved on their own to impose restrictions on counter-riot measures by Iran. Instagram restricted hashtags condemning riots or simply expressing sympathy with terror victims such as the ones killed in the Shiraz terrorist attack. Earlier, Instagram fiercely banned all hashtags and photos related to General Qassem Soleimani.
And recently, Google's Play Store removed an emerging Iranian application called Rubika on allegations of spying on users, a move that is seen by some pundits as a manifestation of Western online dictatorship.
Over the last few weeks, Iran has faced violent riots that were rooted in social media incitement. And it took measures to restore law and order just like any other Western state would do under similar circumstances. But Iran was heavily criticized for restoring calm.