House of Hercules! Karaftoo cave on World Heritage Tentative List
November 16, 2022 - 18:31
TEHRAN –Kordestan province's tourism chief on Tuesday said he was delighted that the natural-historical complex of Karaftoo cave had been shortlisted by the United Nations Educational, Scientific and Cultural Organization.
Karaftoo (also spelled 'Karaftu') has made it onto a shortlist that could lead to World Heritage status, Yaqub Guylian said.
Set on the side of a large cliff, 42km from Takab, this mixture of natural and human-made caverns was used for habitation from early Sassanid times. In one room, an ancient Greek inscription references Hercules. There is a Greek inscription that reads: "This is the House of Hercules. Whoever enters is safe." It is, however, one of the few examples of such an inscription preserved in situ in Iran.
Kordestan will enjoy further tourism prosperity if this magnificent cave site is registered on the UNESCO World Heritage list, the official said. "Moreover, we will receive technical and credit assistance from the UN cultural body in order to develop its access roads and tourism infrastructure."
Narratives say that Karaftoo served as a haven for local people in times of trouble. It has been a residence for various peoples before the advent of Islam. The property is also known as Karaftoo Castle by the local people.
According to UNESCO, the site comprises two sections: a natural part, and a carved portion with troglodytic architecture. The troglodytic part includes four floors, in which floor there are nested rooms, corridors, and stairs, carved in stone, to connect the floors. Therefore, technically and geometrically, it quite has an engineering structure, like the structure of the buildings made of construction materials, which made it renowned amongst caves with Troglodytic architecture all over the world.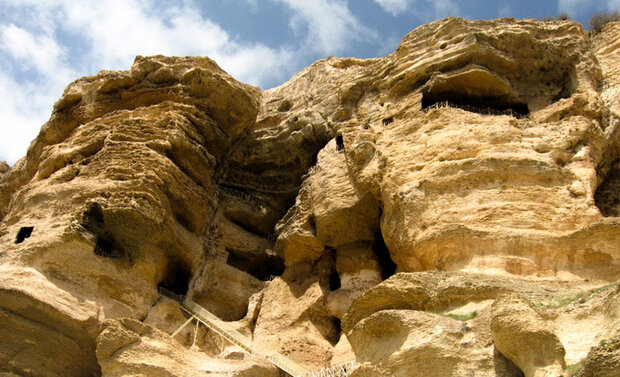 "The most outstanding section of this troglodytic architecture is the third floor of the cave, where there has been made special accuracy in carving rooms, the special form of ceilings, (Roman Arc arch), windows, entrances, and stairs."
There is a Greek inscription that reads: "This is the House of Hercules. Whoever enters is safe."There are ornaments above the windows and circle-shaped reliefs, comparable to the architectural ornaments of Nooshijan Tepe, Hamedan Province, in the Middle period. There are also various human, animal, plant, and geometric patterns/patterns on the walls of some rooms and corridors of the four floors, which have been researched and studied by many scholars.

Additionally, there is a graffiti by the Russian orientalist Khanikaev engraved on the wall of the corridor connecting the first floor to the second, mentioning his visit to the cave in 1917.

Some scholars believe that this cave was temporarily inhabited by the Seleucids (Alexander's successors) who moved to western Iran after the Parthian king Mehrdad II conquered the area. For this reason, many believe that this cave was the home, sanctuary or temple of Hercules.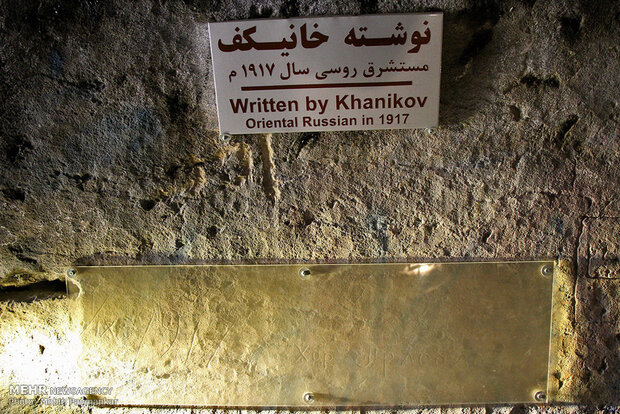 Also, some researchers believe that it was a place where Mehr (Mithra) was worshipped. There are many legends and stories about the creation and formation of the cave among the locals, citing the impact of this cave and the surrounding nature on the folklore of the region.

The Karaftoo limestone caves are only accessible through a common entrance on the southern slope of the mountain. From this side, the cliff is said to rise almost vertically and the entrance to the caves is about 9 m (29 ft) above the ground. In the past, the caves were only accessible with ladders or ropes. Today, a long staircase leads to the entrance.
AM