Archaeologists redraw boundaries for Neolithic village
January 4, 2023 - 18:47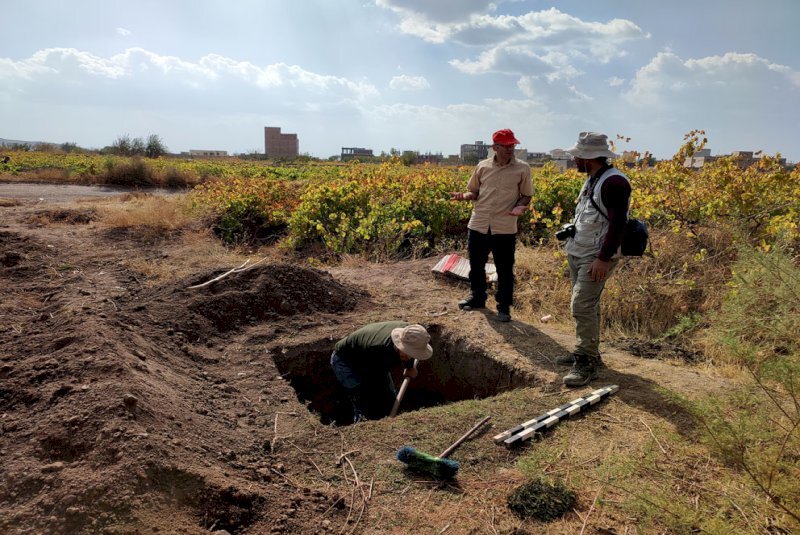 TEHRAN – New boundaries have been defined for parts of the Neolithic village of Leylan in East Azarbaijan province, northwest Iran, CHTN reported on Wednesday.
A team of cultural heritage experts and archaeologists has demarcated Leylan's Tepe Chaman, which is estimated to date back to the 5th millennium BC, said archaeologist Akbar Abedi, who presided over the project.
The project aimed at preserving and protecting the pre-historical site, he added.
In addition to reviewing the precise chronology and Neolithic cultural materials of this region, the project examined the site's place within the Neolithic studies of Northwest Iran and West Asia, he noted.
As well, it surveyed regional and extra-regional trade and relations of this region with neighboring regions such as Eastern Anatolia, Northern Mesopotamia, South Caucasus, and Lake Urmia's west and south, he mentioned.
Pottery and cultural materials found in the area indicated that settlement began around the 7th millennium BC at the beginning of the Neolithic period and lasted for about a millennium until the 6th millennium BC, he explained.
Soaked in history and culture for millennia, Tabriz, the capital of East Azarbaijan, embraces several historical and religious sites, including the Jameh Mosque of Tabriz and Arg of Tabriz, and UNESCO-registered Tabriz Historic Bazaar Complex to name a few. The city became the capital of the Mongol Il-Khan Mahmud Gazan (1295–1304) and his successor. Timur (Tamerlane), a Turkic conqueror, took it in 1392. Some decades later, the Kara Koyunlu Turkmen made it their capital. It was when the famous Blue Mosque was built in Tabriz.
The Neolithic, also called the New Stone Age, is the final stage of cultural evolution or technological development among prehistoric humans. It was characterized by stone tools shaped by polishing or grinding, dependence on domesticated plants or animals, settlement in permanent villages and the appearance of such crafts as pottery and weaving. The Neolithic followed the Paleolithic Period, or the age of chipped-stone tools, and preceded the Bronze Age or the early period of metal tools.
ABU/AM