Protesters demand revocation of credentials of French ambassador
January 11, 2023 - 22:24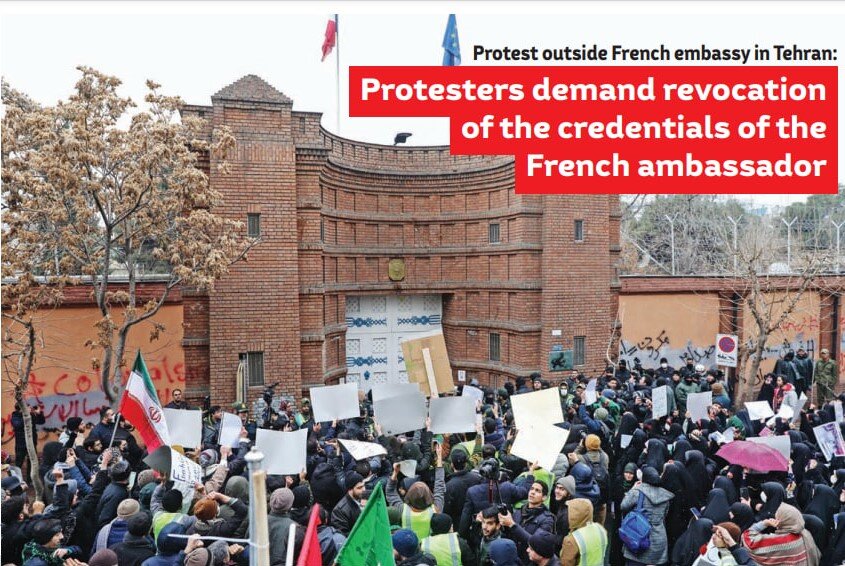 TEHRAN – A number of Iranian students and ordinary people gathered in front of the French embassy in Tehran in protest over outrageous caricatures published by the French satirical magazine Charlie Hebdo. 
The protest took place on Wednesday afternoon in Tehran in freezing snowy weather.
Protesters chanted the following slogans: All this army has come out of love of the Leader, Macron betrays and the West shows support, the blood flowing in our vessels is a gift to our Leader, etc.
The people and students present in the rally condemned the insult to sanctities and asked the officials of the Ministry of Foreign Affairs to take the necessary follow-up to deal with the perpetrators of this insult and asked the officials to revoke the credentials of the French ambassador in Iran, Mehr News reported.
This is the second gathering in front of the French embassy in less than a week. Earlier on Sunday, a group of people in Tehran gathered in front of the French embassy to protest the publication of the outrageous cartoons.
Iran's official news agency IRNA said people from Tehran and seminary students participated in the gathering.
The obscene cartoons were widely considered sacrilegious as they depicted Iranian religious and political officials in a very immoral way.
Clerics participating in the gathering carried posters reading "Death to England and Israel" and "If the Leader gives an order, we will sacrifice our souls."
They also chanted, "O France! get ashamed, relinquish enmity."
"Charlie Hebdo has insulted Muslim sanctities several times and this gathering was staged in Tehran and Qom at the behest of Ayatollah Nouri Hamedani," a cleric at the gathering told IRNA.
The Foreign Ministry has recently condemned the Charlie Hebdo cartoons.