Nomadic settlement discovered near hydraulic dam
January 29, 2023 - 18:38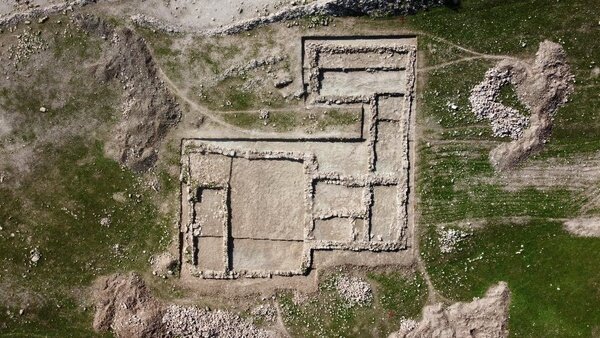 TEHRAN – A seasonal settlement of nomadic tribes has been discovered on an ancient site at the basin of the newly constructed Chamshir Dam in southwest Iran, an archaeologist has said.
There are stone architectural structures with a right-angled plan in this area, which belong to a seasonal settlement and are related to nomad people, ILNA quoted Reza Heidari as saying on Sunday.
The architectural spaces also contain thermal structures that have been documented in some parts, indicating the use of fire for daily tasks and heating, he added.
For weeks, archaeologists have warned against the planned inauguration of the hydraulic dam because it may flood ruins and relics from the Elamite, Achaemenid, and early Islamic eras.
Earlier this month, archaeologist Mohammad-Taqi Atai said that 143 ancient spots, estimated to date from prehistoric times to the present era, have been identified during the investigations carried out in the reservoir area of the dam.
The area includes works and settlements from prehistoric times to modern times, and among them, there are the remains of important settlements from the Elamite, Achaemenid, post-Achaemenid, Sassanid, and a significant number of works related to the Islamic period, the archaeologist explained.
Ataei recommended administration officials avoided haste in the inauguration of the dam as a possible threat to ancient antiquities.
Chamshir Dam and hydroelectric power plant are being built 25 km southeast of Dogonbadan City on the Zohreh River of Kohgilouyeh-Boyerahmad province.
Last month, another archaeologist, Saeid Amir-Hajilu, gave notice that a large area of a Sassanid-Islamic site would be completely submerged as a result of the water release behind the dam. There is a high potential for answering ambiguous archeological questions of Iran about nomads from different periods in the area surrounding Chamshir Dam, he said.
As mentioned by Amir-Hajilu, stone architectural structures, pieces of pottery, and glasswork have been identified and documented so far. It seems that the site was a seasonal winter settlement or a resort in the Sassanid period, based on the quality of the architectural structures and the surrounding landscape, he added.
About 70 percent of the archaeological site has been plowed and leveled by farmers, resulting in demolishing many relics buried in this area, he said. "Archaeological excavations have yielded poor results so far due to an extensive level of destruction by farmers."
Iran is home to one of the world's oldest continuous major civilizations, embracing settlements dating back to 4000 BC. Formerly known as Persia, the country's name mostly conjures up the first Persian Empire, ruled by the Achaemenids (ca. 550 – 330 BC) and sites such as Pasargadae and Persepolis.
ABU/AM