Devastating quake hits Turkey and Syria
February 6, 2023 - 22:23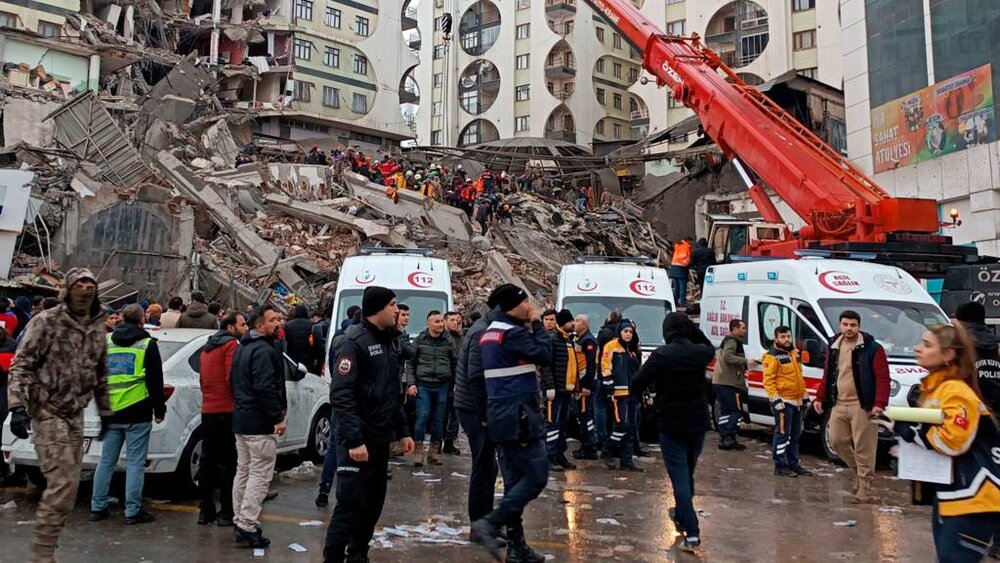 TEHRAN- By the time closing the newspaper late on Monday, media reported that more than 2,300 people had died and rescuers were racing to pull survivors from beneath the rubble after a devastating earthquake ripped through southern Turkey and northern Syria, leaving destruction and debris on each side of the border.
One of the strongest earthquakes to hit the region in a century shook residents from their beds at around 4 a.m. on Monday, sending tremors as far away as Lebanon, Palestine, Jordan, and Egypt.
In Turkey, at least 1,498 people have died and several thousand are injured, according to the country's Disaster and Emergency Management Agency (AFAD).
In neighboring Syria, at least 820 have died. According to the Syrian state news agency SANA, 430 people have died across government-controlled areas, mostly in the regions of Aleppo, Hama, Latakia, and Tartus. The "White Helmets" group, officially known as the Syria Civil Defense, reported 390 deaths in opposition-controlled areas. Much of northwestern Syria, which borders Turkey, is controlled by anti-government forces amid a bloody civil war that began in 2011.
The epicenter of the 7.8-magnitude quake was 23 kilometers (14.2 miles) east of Nurdagi, in Turkey's Gaziantep province, at a depth of 24.1 kilometers (14.9 miles), the United States Geological Survey (USGS) said.
A series of aftershocks have reverberated throughout the day. The largest, a major quake that measured 7.5 in magnitude, struck in Turkey, according to the USGS about nine hours after the initial quake. That aftershock hit around 95 kilometers (59 miles) north of the original.