MITT: Iran promotes vacation destinations, ancient crafts at Moscow fair
March 17, 2023 - 16:46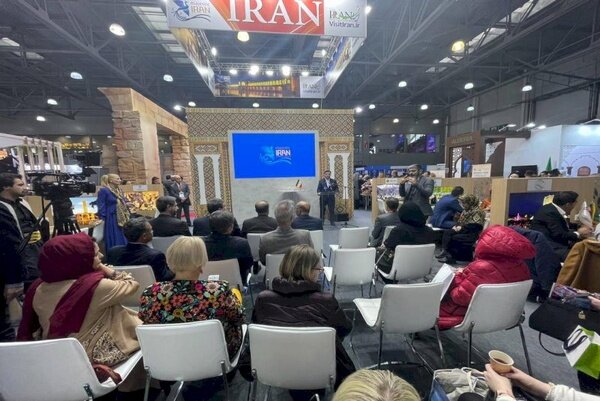 TEHRAN – Iran has taken part in the 29th International Travel & Hospitality Show, turning the spotlight on travel destinations, cultural heritage and crafts of the ancient land.
Ali-Asghar Shalbafian, the deputy minister of Cultural Heritage, Tourism and Handcards, Mohammadreza Dashti Ardakani, a member of the Iranian Parliament's tourism board, and Iranian Ambassador to Moscow Kazem Jalali attended the opening ceremony of the event on Thursday,
Organized by the Touring & Automobile Club of the Islamic Republic of Iran (TACI), the pavilion seeks to promote a wide variety of tourism arenas while it pursues investment capacities.
Cultural meetings, folk performances, live workshops on handicrafts, calligraphy and regional souvenirs are among the programs Iranian exhibitors pursue at the event.
Additionally, the pavilion will host B2B meetings, exhibit 3D movies of historical sites and popular tourist destinations, serve Persian cuisine, and host special publications and brochures.
According to organizers, MITT is one of the top five tourist exhibitions in the world, held in high regard by industry professionals. "In 2022, the exhibition took place to great success, bringing 541 exhibitors from 15 countries and 57 Russian regions, more than 9 000 visitors. It also hosted 14 events with 135 leading experts."
Home to countless attractions, including 26 UNESCO World Heritage sites, Iran seeks to draw the attention of potential Russian travelers, as many domestic experts believe the majority of whom are unfamiliar with Iran's tourism market.
Last year, an Iranian travel expert said many Russian tourists were eager to travel to Iran, an Iranian travel expert said on Monday, recounting his Russian counterparts. "Many [potential] Russian travelers are motivated to visit novel and lesser-known destinations such as Iran that could be a safe and attractive destination," said Mostafa Sarvari, who presided over the tourism marketing and advertising office of the Iranian Tour Operators Association.
The Head of the Iranian Tour Operators Association Ebrahim Pourfaraj believes the majority of potential Russian travelers are unaware of the vast tourist attractions that exist in every corner of Iran. "The fact is that Iran's political and economic relations with Russia are considered good, but this has nothing to do with attracting tourists because it is directly connected with the Russian people. It is the Russian people who must choose Iran as their destination."
AFM