Moscow exhibit represents Iranian art influence on Russian sculptors 
April 2, 2023 - 14:45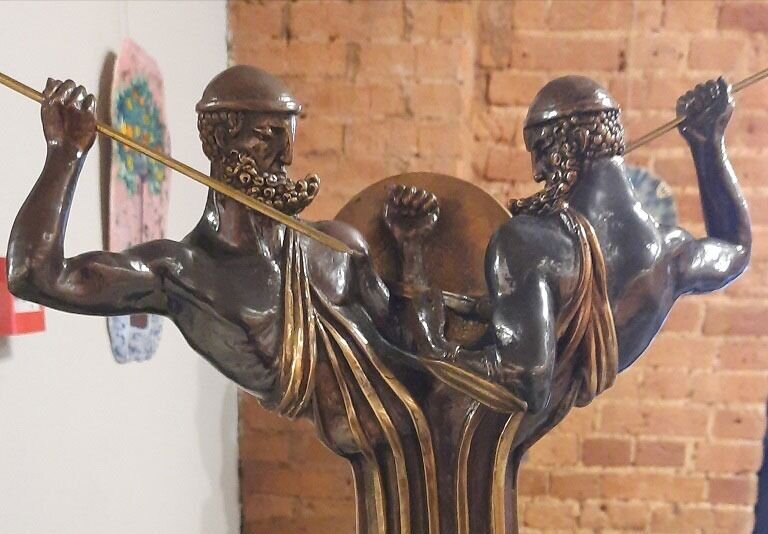 TEHRAN – An exhibition underway at the Institute of Oriental Studies of the Russian Academy of Sciences in Moscow shows the impacts of Iranian art on the works of contemporary Russian sculptors.
Open since March 24, the exhibition is showcasing works of 80 prominent sculptors from across Russia, Iran's Islamic Culture and Relations Organization, a contributor to the exhibition, has announced.
Speaking at the opening ceremony, the Iranian cultural attaché in Moscow, Masud Ahmadvand, expressed his thanks to the Institute of Oriental Studies and Russian artists for organizing the exhibition, and said, "Organizing this exhibition at the beginning of Noruz, the Iranian new year, can be seen as a new chapter of cultural relations between Iran and Russia."
A.K. Alikberov, director of the Institute of Oriental Studies who was in attendance at the opening ceremony, congratulated all the Iranian guests on Noruz and said the beginning of spring is also celebrated by Russians.
He also praised all contributors to the exhibition and expressed his hope that the exhibit would help improve ancient ties between Russian art and Eastern culture.
Georgy Smirnov, director of the Sculpture Department of the Moscow Union of Artists, said that the union is eager to organize the exhibition in Tehran.
He also said that the Iranian symbols and motifs have always been sources of inspiration for Russian artists, and this fact demonstrates the long history of interaction between Iranian and Russian cultures.
Peter Baranov, a member of the Moscow Union of Artists, said the Russian poets Alexander Pushkin, Vasily Zhukovsky, Sergei Yesenin, Nikolai Gumilev, Fyodor Tyutchev and Ivan Bunin were influenced by Persian poets such as Ferdowsi, Sadi, Hafez, Attar, Rumi, Nezami and Khayyam.
He added the Russian sculptors have represented the influence of the Persian poets on Russian literature and art.
Shilo, a folk music band from the southern Iranian city of Bushehr, performed the opening ceremony of the exhibition, which will run until April 20.
Iran and Russia are seeking closer relations on art and cultural issues under the administration of Ebrahim Raisi.
The Museum of Oriental Art in Moscow held "Painting of the Heart", an exhibition of paintings and sketches by Iranian artist Hassan Ruholamin, in February and March.
In addition, Iran's Farabi Cinema Foundation and the Embassy of Russia in Tehran organized the Russian Film Days in December 2022.
A Russian film delegation led by the director of Russia's Union of Cinematographers, Valery Ivanovich Tonkikh, attended the program.
Photo: A sculpture by a Russian artist is on view during an exhibition at the Institute of Oriental Studies of the Russian Academy of Sciences in Moscow.
MMS/YAW