Noruz holidays draw 3,000 visitors to Quri Qaleh cave per day
April 2, 2023 - 22:0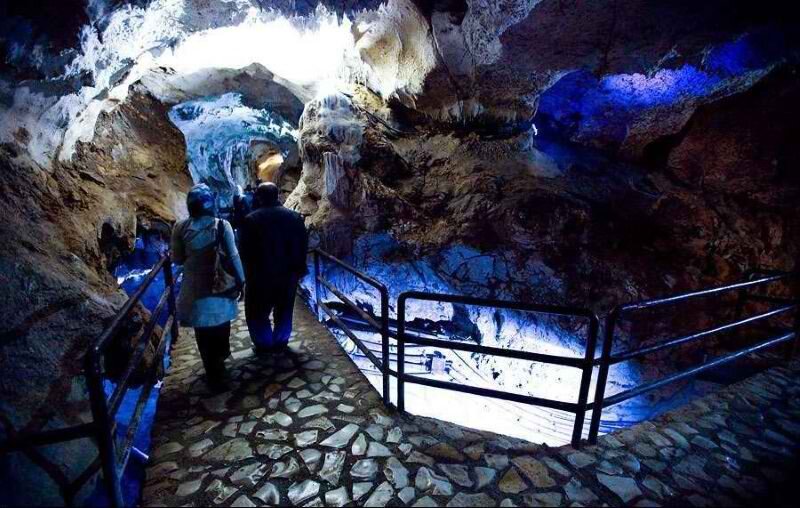 TEHRAN – Some 3,000 tourists and travelers visit Quri Qaleh cave in western Kermanshah province every day during the Noruz holidays, a local tourism official has said.
Every year, many domestic and foreign tourists visit this cave and its surroundings due to its pleasant and green surroundings, Seyyed Mohammad Amin Hosseini explained on Sunday.
Before Noruz, the tourism infrastructure of the cave and its surroundings was developed, which was well received by tourists, the official added.
Quri Qaleh or Quri Qala Cave is located in the foothills of the Shaho mountain range, 86 kilometers from the western province of Kermanshah.
The water cave, which is formed some 65 million years ago, is 12 kilometers long and 3,140 meters deep. Being explored for the first time in the 1950s, the cave is one of the longest caves in western Asia.
Where there is more humidity and waterfalls, limestone crystals and stalactites are created inside the cave.
There are some historical signs from the Sassanid era (224-651 CE) found in the cave, including silver plates, some pieces of pottery and 15 coins from the Yazdgerd III period. There are also some words in Pahlavi on plates and coins.
Archaeology excavations have revealed that the Quri Qaleh Cave was a hunting lodge during the Stone Age.
Exploring a cave may not be on the "to-do list" of travelers in Iran. However, Karaftu, Ali-Sadr and Quri Qaleh, and Katale-Khor are among the most visited caves.
Iran is geologically a part of the Alpine-Himalayan organic belt. According to the Britannica Encyclopedia, the enigmatic evidence of human presence on the Iranian plateau is as early as the Lower Paleolithic times.
The first well-documented evidence of human habitation is in deposits from several excavated cave and rock-shelter sites, located mainly in the Zagros Mountains of western Iran and dated to Middle Paleolithic or Mousterian times (c. 100,000 BC).
ABU/AM