Petros Markaris's novel "Bread, Education, Freedom" published in Persian
April 14, 2023 - 17:58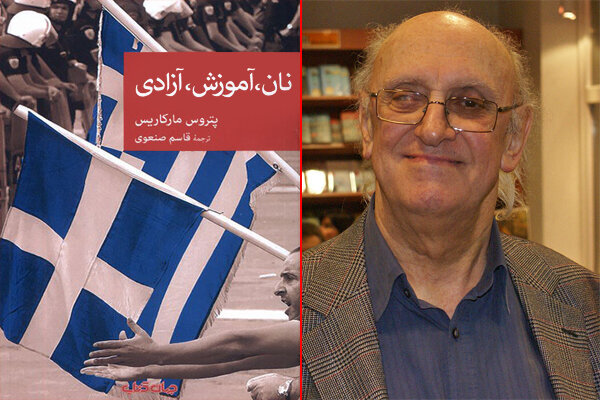 TEHRAN – "Bread, Education, Freedom", a novel by Greek writer Petros Markaris, has been published in Persian.
First published in 2013, the book has been translated into Persian by Qasem Sanavi.
In this dystopian fiction, Superintendent Kostas Charitos has just learned that he won't get any wages during the next three months. The Greek State cannot pay them anymore. Everybody is still present at the station, doing their job, though.
As the head of the crime squad in Athens, he's called to the scene when Yerassismos Demertzis is murdered. When the police arrive on the premises, a construction site near the Olympic Games stadium, they start investigating. A phone set on the victim's body rings and a recorded message says the slogan "Bread, education, freedom".
This is the slogan used by the students who fought in the Athens Polytechnic Uprising in November 1973. This uprising was repressed by the Regime of the Colonels but the people supported the students and it eventually led to the end of the regime.
The victim was a key figure in this movement. When a second victim appears, following the same modus operandi and also an important participant in the uprising, Charitos wonders who is trying to kill heroes from the Greek revolution.
Markaris was born in 1937. He was an adult during the dictatorship of the Colonels and witnessed the birth of Greece's new democracy in 1974.
The plot of this novel is straightforward. Don't expect sophisticated twists and turns. It's still a fascinating read because it gives you a picture and an analysis of today's Greece in several aspects.
"Bread, Education, Freedom" is the last volume of a trilogy about the economic crisis in Greece. This one focuses on the generation who instigated the fall of the Colonels.
Photo: A combination photo shows writer Petros Markaris and the front cover of the Persian edition of "Bread, Education, Freedom".
MMS/YAW