14th-century Rab'-e Rashidi to be demarcated
April 24, 2023 - 20:30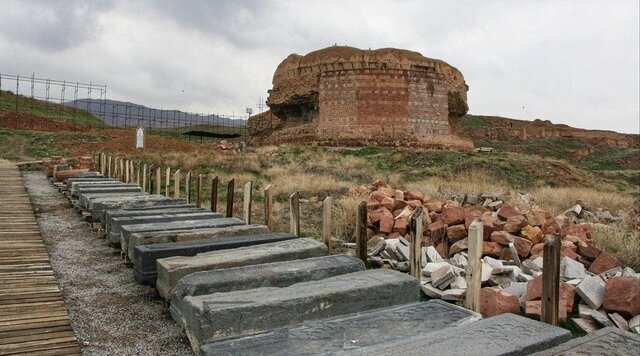 TEHRAN –Rab'-e Rashidi, an educational complex dating back to the 14th century in East Azarbaijan province, northwest Iran, is scheduled to be demarcated during the current Iranian calendar year 1402 (started on March 21), the deputy provincial tourism chief has said.
The demarcation project aims at preventing further destruction and damage as well as preserving and protecting the historical site, Vahid Navadad explained on Monday.
Meanwhile, the archaeological surveys on the 700-year-old educational complex will be resumed, the official added.
Located in Tabriz, the capital of East Azarbaijan province, the 14th-century educational complex was established during the reign of Ghazan, a ruler of the Ilkhanid dynasty (1256-1353).
It embraces a paper factory, a library, a hospital (Dar-al-Shafa), a Quranic center (Dar-al-Quran), residential facilities for teachers, students' quarters, and a caravanserai amongst other facilities.
The Cultural Heritage and Tourism Research Center in collaboration with Tabriz Islamic Art University has recently completed the first chapter of an international project that lays the basic groundwork for UNESCO recognition.
Rab'-e Rashidi includes several archaeological layers that date from Ilkhanid, Safavid, and Qajar eras. experts believe that students from Iran, China, Egypt, and Syria studied there under the supervision of physicians, intellectuals, scientists, and Islamic scholars.
Tabriz, the capital of East Azarbaijan, embraces several historical and religious sites, including the Jameh Mosque of Tabriz and Arg of Tabriz, and the UNESCO-registered Tabriz Historic Bazaar Complex, to name a few. The city became the capital of the Mongol Il-Khan Mahmud Gazan (1295–1304) and his successor. Timur (Tamerlane), a Turkic conqueror, took it in 1392. Some decades later, the Kara Koyunlu Turkmen made it their capital. It was when the famous Blue Mosque was built in Tabriz.
Iran's cultural heritage body keeps an eye on a possible inscription of the ruins of Rab'-e Rashidi on the UNESCO World Heritage list by 2025.
ABU/AM