Iran, Cuba private sectors discuss ways of boosting co-op
May 12, 2023 - 14:14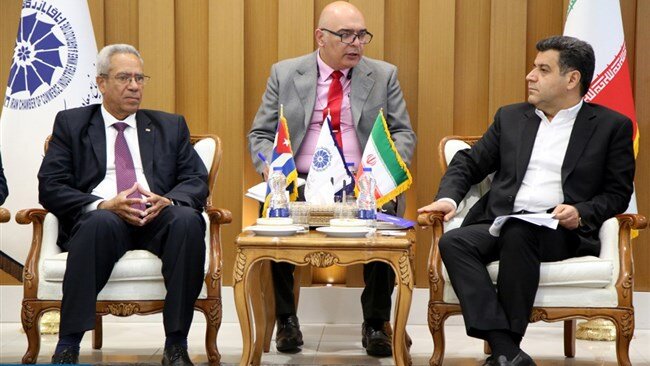 TEHRAN - Antonio Luis Carricarte Corona, president of the Chamber of Commerce of the Republic of Cuba (CC) along with the country's Ambassador to Tehran Alberto Gonzalez Casals held a meeting with Deputy Head of Iran Chamber of Commerce, Industries, Mines and Agriculture (ICCIMA) Hossein Selahvarzi, to discuss ways of expanding cooperation between the private sectors of the two countries.
In the meeting which was held at the place of the ICCIMA on Thursday, the two sides discussed potential areas for joint cooperation with the aim of increasing the level of trade exchanges between the two countries, the ICCIMA portal reported.
Speaking at the meeting, Corona called on the governments of the two countries to provide the conditions for the joint commercial activities of the private sectors and the chambers of commerce of the two countries.
"In this context, we can establish a link between the private and public sectors and define joint projects to increase the level of cooperation so that Iranian and Cuban companies can be in continuous communication," he stated.
Mentioning the common fields of cooperation between Iran and Cuba, the official said: "Priorities and needs of the two countries should be determined; For example, Iran has good conditions in the field of agriculture and production of agricultural products. Or Cuba has a very high capacity in the field of tourism, which should be paid attention to."
He further noted that his government is willing to make the necessary arrangements for the opening of an Iranian trade center in Cuba with the aim of facilitating trade between the two sides.
Corona also stressed the need for joint collaboration with third countries and said: "We can jointly produce products and export them to countries in the region. In this regard, we can invest in products that have a quick return on investment."
Selahvarzi for his part welcomed the ideas presented by the Cuban side and said: "There is considerable capacity for economic and commercial cooperation between the two countries, although in this direction, the geographical distance and the economic sanctions on the two countries are two serious obstacles."
He called for more cooperation between Iran and Cuba in the fields of food, pharmaceuticals, mines, nanotechnology and tourism.
EF/MA
Photo: ICCIMA Deputy Head Hossein Selahvarzi (R), and Antonio Luis Carricarte Corona, president of Chamber of Commerce of Republic of Cuba (CC)