EU and Tehran discuss mechanisms for nuclear cooperation: Salehi
April 18, 2016 - 13:28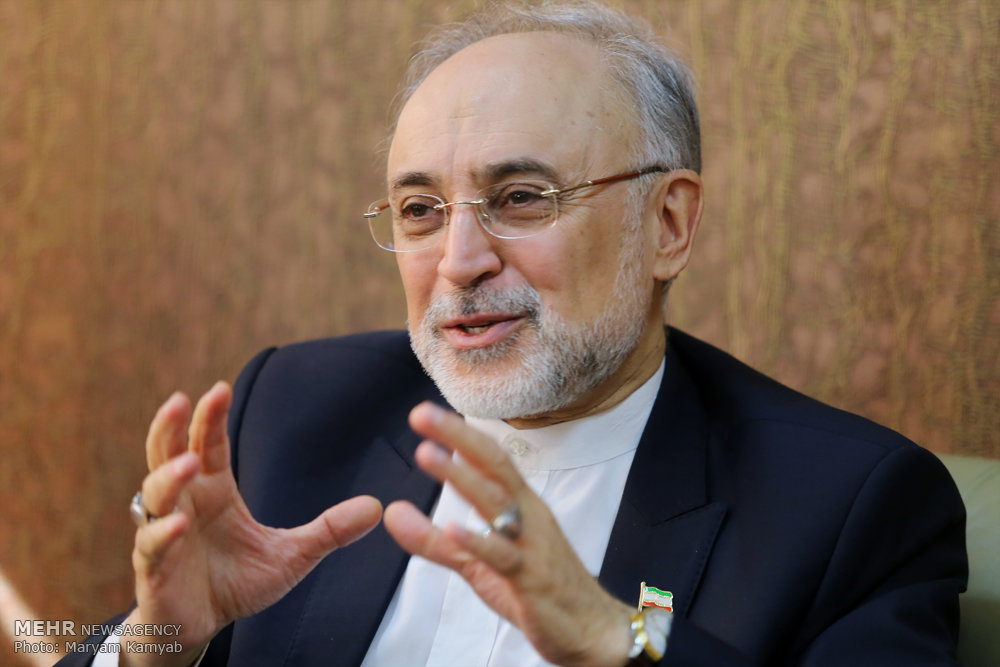 TEHRAN - Ali Akbar Salehi, chief of Atomic Energy Organization of Iran (AEOI), said in a press conference on Sunday that Iran and the European Union have held positive talks for cooperation in nuclear industry.
Salehi let slip the news after a meeting with the European Energy Union Commissioner Miguel Arias Canete.
The talks were held during the visit to Tehran by EU foreign policy Chief Federica Mogherini, whose team of seven commissioners was the biggest to visit Tehran in more than a decade.
During the talks, the two sides exchanged ideas on future cooperation mechanisms, including starting nuclear ventures.
The official expressed hope for expeditious and comprehensive ties in different nuclear industries "which can start in the Fordow site particularly in the laboratory sector."
Prior to the signing of the JCPOA, Fordow was a uranium enrichment facility. However, based on the agreement, the site was to be converted into a nuclear, physics and technology center for international collaboration, including in the form of scientific joint partnership.
"Nuclear cooperation between Iran and the European Union falls under chapter three of the JCPOA," Salehi was quoted as saying.
The JCPOA says "the EU and E3+3 countries and Iran, in the framework of the JCPOA, will cooperate, as appropriate, in the field of peaceful uses of nuclear energy and engage in mutually determined civil nuclear cooperation projects as detailed in
Annex III, including through IAEA involvement."
According to a recent blueprint document announced by Iranian Foreign Minister Mohammad Javad Zarif and Mogherini, the two sides agreed on a significant expansion in economic, energy, and scientific ties, including civil nuclear cooperation.
The AEOI chief was very optimistic in his remarks, hoping that Iran-EU nuclear collaboration can develop into other projects particularly ITER.
ITER project is one of the most ambitious energy projects in the world today, where in southern France, scientists and researchers from 35 countries are collaborating to build the world's largest tokamak.
Tokamak is a magnetic fusion device that has been designed to prove the feasibility of fusion as a large-scale and carbon-free source of energy based on the same principle that powers our Sun and stars.
A highlight in Salehi's remarks was that the visiting EU officials and Iranian counterparts also discussed setting up an advanced nuclear center, which can offer services not only to Iran but to the neighboring countries. He declined to comment further.
Iran and six global powers struck a deal, dubbed the Joint Comprehensive Plan of Action, in July, 2015, ending a decade-long impasse over Iran's nuclear program.
Under the deal, Iran scaled down its nuclear activities in exchange for relief in international sanctions against the county as of 2003, where Iran's nuclear dossier was studied in the UN Security Council.

AK/