Leader: Real authority is way to progress
May 27, 2016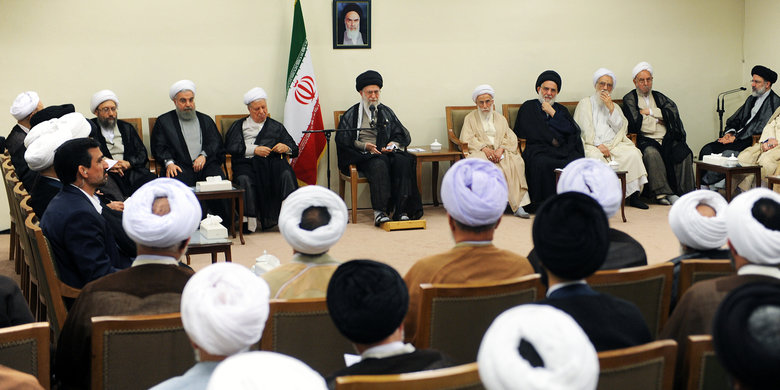 Leader of the Islamic Revolution Ayatollah Seyyed Ali Khamenei, said on Thursday, "The only way for the survival and progress of the [Islamic] establishment and materialization of the objectives of the [1979 Islamic] Revolution is 'real authority in the country' and 'great cause', i.e. defying the enemy."
During a meeting with the chairman and elected members of the fifth Assembly of Experts, he said, "The Assembly of Experts is a divine blessing, which is a great and influential phenomenon even regardless of its tasks [enshrined] in the Constitution."
The Leader of the Islamic Revolution described the formation of an "elected and nationally reliable" group of scholars and religious and scientific pundits as significant per se, adding: "This prominent and exalted assembly enjoys great potential for the exchange of views, coordination and effective activity."
The Leader of the Islamic Revolution pointed to "consultation about different issues", "concentration on issues of mutual interest", "declaration of stance and demands" and "formation of discourse and public demand" as potentialities of the Assembly of Experts, saying: "In case this objective materializes, different branches [of government] and officials and executives will naturally move towards meeting that demand."
"Sovereignty of Islam, freedom, independence, social justice, public welfare, eradication of poverty and ignorance, resistance to the devastating flood of ongoing moral, economic, social and political corruption in the West and steadfastness against the Arrogant Front's hegemony are among the most important objectives of the Iranian nation's Islamic Revolution." the Leader said.
He said safeguarding the Revolution is more difficult than creating it. The Leader also touched on methods of countering the front of global oppressors, saying: "The enemies of the Iranian nation put hard [conventional military] invasion on their agenda from the very beginning; eight-year [Iraqi] imposed war, riots during the early days of the Revolution, supporting terrorist grouplets, attacks on Iran's oil platforms and downing of [an Iranian] civilian plane are examples of this invasion that ended in the failure of the enemies thanks to God and in light of the divine influence of [the late] Imam Khomeini and the nation's patience and resistance."
He said "soft attack" was another stage of incessant invasions by global bullying powers, adding: "Persistent economic sanctions, continued political attacks, seductive propaganda and targeting the Islamic Republic's interests in other countries are among methods of the second stage of the enemies' invasion which has failed to pay off thanks to God and the perseverance of the nation and officials."
The Leader described the third stage of the enemies' invasion, i.e. "infiltration", as very dangerous and in continuation of the same soft war, adding: "In its strategy of infiltration, the Arrogance is pursuing several main objectives: 'influencing decision-making and decision-taking centers', 'changing people's beliefs' and 'altering the calculations and positions of officials'."
He noted, "The main objective pursued by the enemies in this stage of soft war is to prepare the ground for emptying [from within] the [Islamic] establishment's domestic elements of power."
"If this objective is realized and the Islamic Republic is emptied of elements of power, its destruction or fundamentally changing its direction will not be difficult. That is why I reiterate that defying the enemy and resisting its demands amount to the 'great cause'," he said.
The Leader also said, "Disciplined religious innovations by educated elements who have the power of inference and healing wounds caused by the enemy, including 'sectarian and tribal division', 'factional differences' and 'artificial polarizations in the country' are among other tasks of the Assembly of Experts."
"Immobility is not authorized. You must always consider seriously the principle of change and progress for the realization of the objectives of Islam and the Revolution," he added.
He said real empowerment of the country was the only way for the "survival, progress and materialization of the objectives of the Revolution and the nation", adding: "All officials and organs have tasks on this path that they must fulfill seriously."
The Leader of the Islamic Revolution said the country's strength can also even help get concessions from major world powers, adding: "Otherwise, even weak and humiliated governments will bully the Iranian nation."
(Source: Leader.ir)