By staff & agencies
Iraqi forces enter ISIL-held Fallujah
May 31, 2016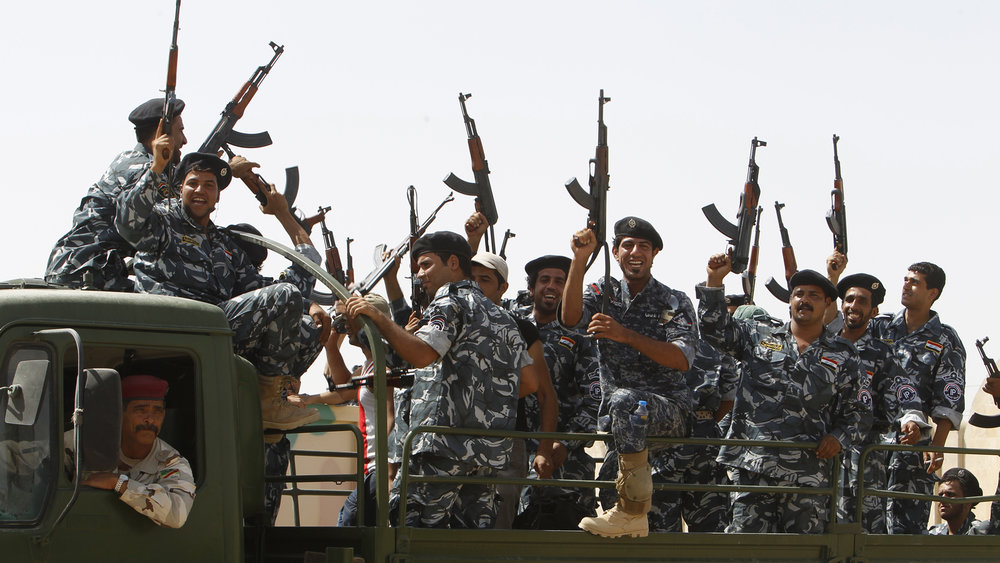 Iraqi commanders says their forces have entered Fallujah in a major victory against  ISIL (Daesh) terrorist group.   
One commander, quoted by AFP, said troops entered the city from three directions on Monday in a new phase of the operation to recapture it.
"We started early this morning our operations to break into Fallujah," Sabah al-Norman, a spokesman for Iraq's elite counter-terrorism service, said.
The city, located about 40 miles west of Baghdad, is one of the last major Daesh strongholds in Iraq. The Takfiri group still controls territory in the country's north and west, including Iraq's second largest city of Mosul.
Some 1,500 ISIL fighters holed up in the centre, which has been under their control for more than two years, were putting up fierce resistance with bombings and rocket attacks, Daily Telegraph reported.
They attempted to distract the army's attention away from the frontline with a wave of deadly car bombs in the Iraqi capital of Baghdad 50 miles away which left dozens dead.
The exiled mayor of Fallujah expected it would be fully liberated within a week, however the commander of the offensive warned the battle for the strategic city is likely to be a protracted one.
"They are dug in," Lt Gen Abdul Wahab Al Saadi told the Telegraph. "We think they will fight to the last."
In a televised speech to parliament on Sunday, Iraqi Prime Minister Haider al-Abadi called on residents of Fallujah to either leave the city or stay indoors.
Government officials and aid groups estimate that more than 50,000 people remain inside the center of the city.
For most of those living in the centre however leaving is not an option, as Isil is threatening anyone who tries to flee with execution.
So far only 1,000 people, mostly from the outlying areas, have managed to get to safety. Those who have have told how the Islamist group has been using residents as human shields as the army closes in.
Fallujah, which saw some of the heaviest fighting of the U.S. military invasion between 2003 and 2011, was the first city in Iraq to fall to Daesh.
The Takfiri extremists seized control of Fallujah in January 2014, six months before they swept across northern and western Iraq and declared a caliphate.
Baghdad bombing
Meanwhile, at least 24 people have been killed and scores of others injured in bombing attacks in the north and northeast of the Iraqi capital of Baghdad.
A car bomb exploded at a market in northeast Baghdad on Monday, killing at least 11 people and injuring some 14 others. Two cars laden with explosives were to target a police station, but security forces foiled one of the attacks.
In another incident, a car bomb killed 10 people in a northern Baghdad neighborhood. Twenty four people were also wounded in that attack.
A third explosion occurred when a motorcycle rigged with explosives was blown up in Baghdad's Sadr City on Monday. At least three person have been reported killed in the blast. Ten people were also injured.
The attacks on Monday came as Iraqi commanders said their forces have entered Fallujah in a major victory against Daesh militants.
The city, located about 40 miles west of Baghdad, is one of the last major Daesh strongholds in Iraq.
The attacks were the latest in a new spate of bombings to have hit the Iraqi capital over the recent past. Daesh has claimed responsibility for most of the attacks.
Iraqis say Daesh is trying to make up for its loss of ground to Iraqi security forces over the past months.
New estimates by the government show Daesh now controls only 14 percent of Iraqi territory, down from the 40 percent it held in 2014, with top officials vowing to clear the entire Iraqi soil from militants in 2016.