South Pars phase 21 platform installed after weather subsides
July 31, 2016 - 9:28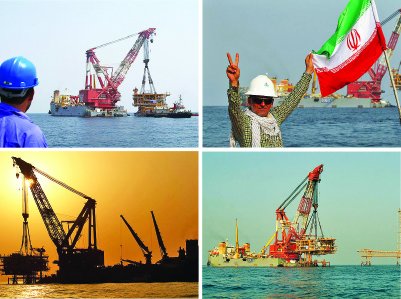 TEHRAN- Pars Oil and Gas Company (POGC) personnel, standby in the Persian Gulf for almost a week, finally succeeded Friday afternoon to fix the platform of South Pars gas field's phase 21 on its jacket in the Persian Gulf.
The 2,700-ton platform was built in Khorramshahr yard in a 20-month period and moved by Abouzar barge last Friday to be installed on its current location but the operation was postponed due to weather conditions.
According to Farrokh Alikhani, the deputy managing director of POGC, with this platform, 28.3 million cubic meters (mcm) of gas will be added to the current 420 mcm daily production of the giant gas field.
Phase 21 of South Pars includes 11 rigs which will be put into operation within the next 110 days.
South Pars gas field, which Iran shares with Qatar in the Persian Gulf, is estimated to contain a significant amount of natural gas, accounting for about eight percent of the world's reserves, and approximately 18 billion barrels of condensate.
South Pars is divided into 24 standard phases, of which phases 1-10, 12, 15 and 16 are fully operational. Each standard phase is projected to produce 50 mcm of gas per day. Phases 17 and 18 as well as 19 are operating at half capacity.
Phases 20 and 21 are projected to produce 50 million cubic meters of sweet gas per day for home consumption and will recover one million tons of Ethane per annum for petrochemical industry consumption. They will also recover 1.050 million tons of Liquefied Petroleum Gas (LPG) per year, produce 75,000 barrels of gas condensate and recover 400 tons of sulfur per day for exports.
PT/MA