"Cooperation will continue if deemed necessary mutually"
Russia honors Iran Constitution, no airbase sought: ambassador 
August 24, 2016 - 21:13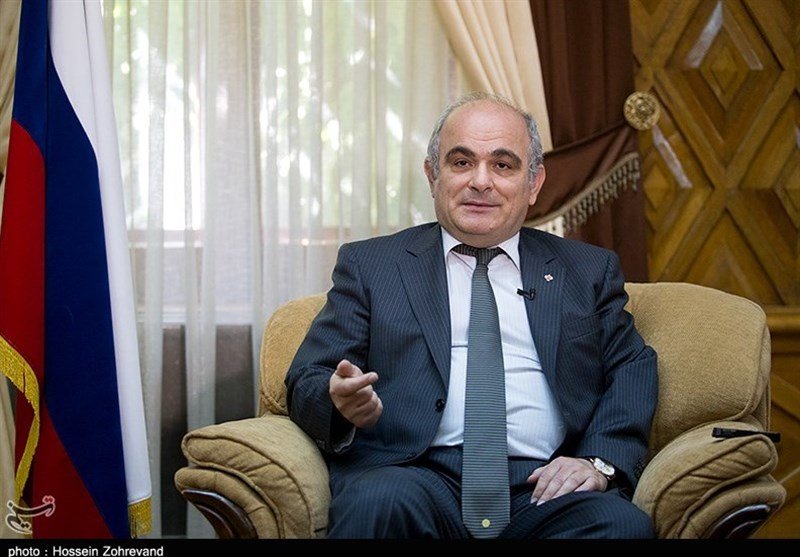 TEHRAN – Russian Ambassador to Tehran Levan Dzhagaryan has thanked Iran for allowing Russian bombers to use an airbase in its territory for launching airstrikes in Syria, nevertheless indicating that the world power recognizes its limits.
Moscow respects the Iranian Constitution and is not seeking to have an airbase in Iran, the Russian official stated on Wednesday.
"Our message to the (Iranian) people and their representatives in the Islamic Consultative Assembly (parliament) is that there is nothing to worry about because Russia has never ever been, nor will it be, seeking an airbase in Iran. We do respect Article 146 of the Islamic Republic of Iran's Constitution and observe it seriously," said the ambassador.
Last week the Russian Defense Ministry announced it was using the Nojeh airbase, located in Hamadan, western Iran, to fly sorties over Syria.
"On August 16, 2016, Tu-22M3 long-range bombers and Su-34 tactical bombers took off from the "Hamedan" airbase (the Islamic Republic of Iran) and carried out a concentrated airstrike on objects of the ISIS and Jabhat al-Nusra terrorist groupings in the provinces of Aleppo, Deir ez-Zor, and Idlib," the Russian ministry said.
While senior Iranian officials saw it a step forward in ties with the military power, some parliamentarians voiced concern over a possible breach of the Constitution.
The most fervent criticism was levelled by MP Heshmatollah Falahatpisheh, who said the cooperation breaches Article 146 of the Constitution.
"The establishment of any type of [foreign] military base in the country, even for peaceful purposes, is forbidden," he said.
Article 146 of the Constitution forbids "the establishment of any kind of foreign military base in Iran, even for peaceful purposes," the lawmaker quoted from the Constitution last Wednesday.
Reacting to the comments, Iranian Defense Minister Brigadier General Hossein Dehqan said on Sunday, "We have not given any military base to the Russians and they are not here to stay."
The Russian ambassador further highlighted that the decision to use the airbase had already been approved by Iran's Supreme National Security Council and future deployments would also be subject to mutual agreements.

"The deployment of Russian fighters and bombers in Iran was temporary and approved by senior Iranian officials… If Tehran and Moscow deem it necessary, the cooperation with continue in the future under agreements by officials of the two sides," the ambassador elucidated.

The same was spoken by Russia's Defense Ministry, when on August 22, spokesman Igor Konashenkov said, "Further use of the Hamadan airbase in the Islamic Republic of Iran by the Russian Aerospace Forces will be carried out on the basis of mutual agreements to fight terrorism and depending on the prevailing circumstances in Syria."
AK/SP