By Mahnaz Abdi 
FLSmidth considers Iran one of its most important markets
August 31, 2016 - 10:19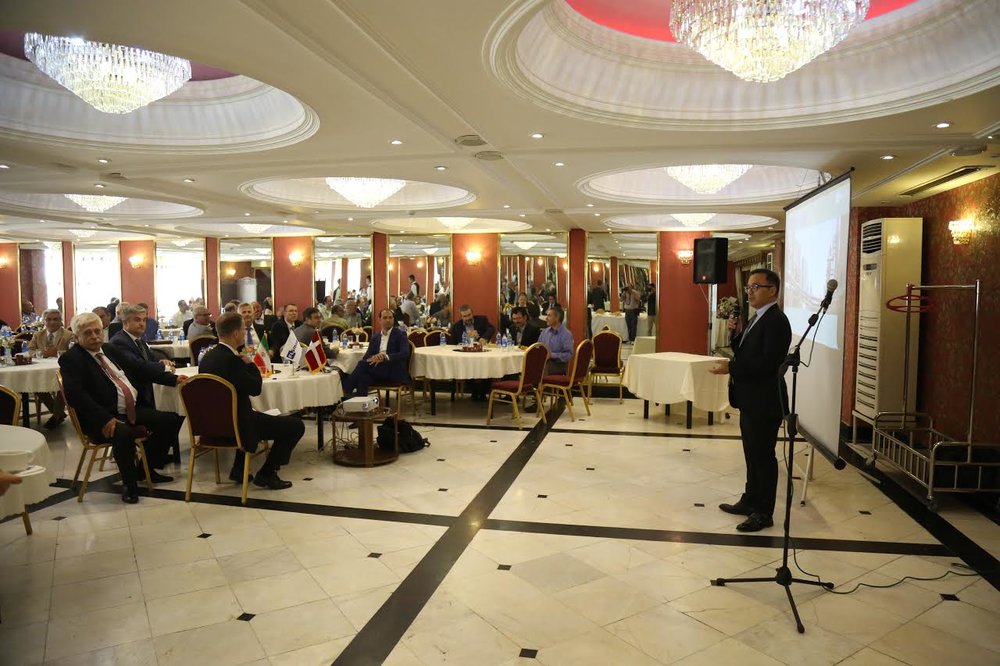 Per Mejnert Kristensen, the president of cement division of Denmark's FLSmidth Company, told the Tehran Times that his company considers Iran as one of its most important markets.
He made the statement in an exclusive interview on the sidelines of a ceremony for inaugurating the company's office in Iran.
The ceremony was hosted by the National Iranian Copper Industries Company on Tuesday in Tehran.
FLSmidth is a global engineering company based in Copenhagen, Denmark. With almost 13,000 employees worldwide, it provides global cement and mineral industries with factories, machinery, services and know-how.
"FLSmidth has a very long time history in Iran. We have been here for more than 80 years. So, we feel actually that we have been all the time. Sometimes, we had a permanent representative and sometimes we have worked from aboard," Kristensen explained.
He went on to say, "The last few years we had no office here in Iran, but now we have very pleased that the lifting of sanctions have given us this opportunity because we consider Iran as one of the most important markets as you know both in cement and minerals and both of these industries are very interesting for us in Iran as one of the leading countries when it comes to the mineral deposits and when it comes to cement plants and cement consumption."
"So for us now to focus on Iran by establishing our office gives us the chance to be much closer to our customers," he highlighted.
"Everyone wants to do a lot of local activities in the country, training our customers, going to the plant side, service the plants of cement or minerals and I think really to be able to do that, it is really important we are physically close to our Iranian customers and we found it very important now to establish ourselves in Tehran and we will expand it very rapidly employing more local people, local engineers. We will train and educate in our systems our ways of working and it will certainly enable us to serve our customers much better than what we did in the past," Kristensen stated.
'Iran's future bright with sanctions lifting'
"And with the lifting of sanctions we know that the future of this country will be bright and we want of course to be a part of this very interesting development that we will see in the coming year," Kristensen further noted.
"We have in fact for many years worked very closely with Iranian partners when it comes to the design and supply of equipment for cement plants and the same goes also for mineral plants. We've worked with Iranian customers in the Iranian industry. We always look very carefully on how we can have a close partnership, so that is not only the supplier and buyer and we actually work as a partner," he added.
'FLSmidth welcomes transfer of technology to Iran'
In terms of transferring technology to Iran, Kristensen said, "A part of this [our partnership] has been always that part of the design has been made locally by our partners."
"It creates a chance for us to work in a close partnership which will also entail cooperating on different technology. It is something that we welcome because it helps us develop the Iranian industry and we think also for us long-term partnership is a benefit because to have close partners is a very important part of our strategy," he asserted.
'Opening office a sign of commitment to Iran'
"After the lifting of sanctions I do my utmost to assist the Danish companies in gaining a foothold in the Iranian market," Danish Ambassador to Iran Danny Annan told the Tehran Times in the same ceremony.
"FLSmidth is a very old friend of Iran. It has been here for 80 years. As two years ago we celebrated the 80th anniversary of diplomatic relations between Iran and Denmark, FLSmidth has been here as long as Denmark has been officially here," the ambassador added.
"FLSmidth has made a very good team In Iran. And for me it [opening the company's office in Iran] is a very clear sign of the long-term commitment of FLSmidth to Iran and the Iranian people," he noted.