By Ebrahim Fallahi
Tehran, Berlin set to broaden economic ties
October 3, 2016 - 19:57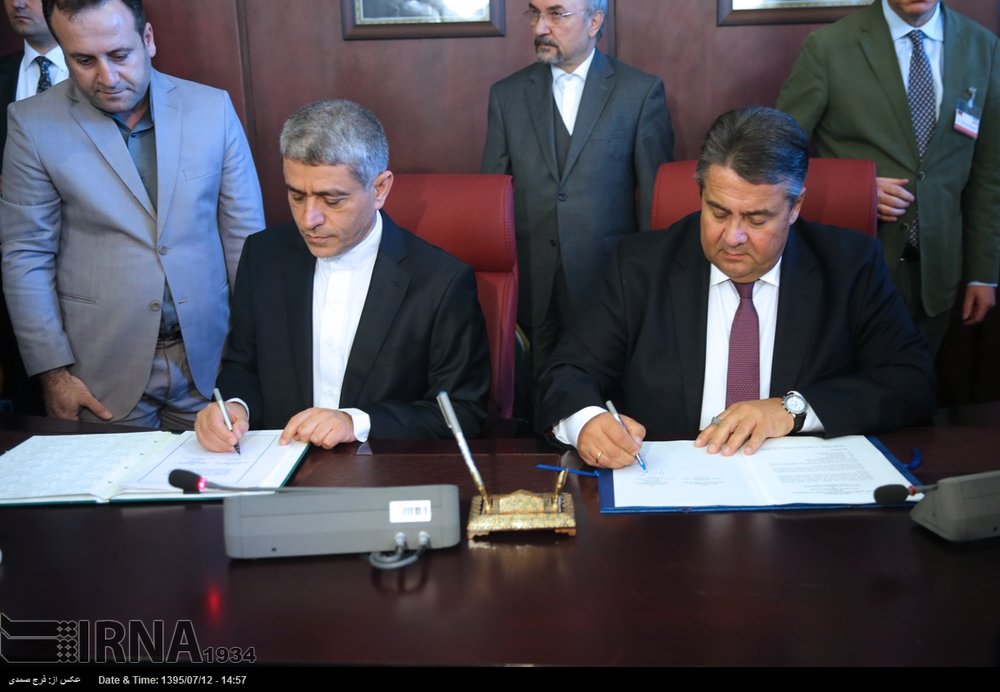 TEHRAN – Iran and Germany signed 10 memoranda of Understanding (MOU) at the end of their 5th Joint Economic Committee meeting in Tehran on Monday.
The MOUs were in a variety of areas ranging from finance, joint venture, banking, insurance, and urban development, to oil, gas and petrochemicals, renewable energy, railway, and environment.
The German vice-chancellor and minister for economic affairs and energy, Sigmar Gabriel, and the Iranian minister of finance and economic affairs, Ali Tayyebnia, signed the documents in the presence of some other officials from the two countries.
Gabriel, heading a 160-member delegation comprising corporate managers, entrepreneurs, and businessmen arrived in Tehran on Sunday.

Central banks ink deal
Germany's Deutsche Bundesbank (the central bank of the Federal Republic of Germany) and Central Bank of Iran (CBI) reached an agreement for technical cooperation. Meanwhile, SMS group, a builder of steelmaking plants, INTRA industrial solutions, Mitsubishi Germany and Keller HCW were among the firms which signed MOUs.
On the sidelines of signing ceremony, Tayyebnia said, "This event is an indicator which shows willingness of the two sides to expand economic cooperation." "Committee meetings are good opportunities to steer the two countries' economic relations," he added.
Touching upon the country's economic policies, the minister said that Iran's economic policy has always been focused on deepening ties with different countries, especially with traditional trading partners.
Post-sanctions era a good opportunity
Elsewhere in his remarks, Tayyebnia referred to the post-sanctions era as a good opportunity, saying, Iran and Germany have great potentials for bilateral cooperation and the two countries' public and private sectors should collaborate in all areas.
"Iran has reviewed and changed the framework for cooperation and collaboration with other countries," the minister said, noting that some incentives and advantages will be offered for foreign investments.
"Our main goal is to attract more direct investment, increase joint ventures, boost cooperation in free and special economic zones and also in science and technology parks," he added.
In the end, Tayyebnia suggested that the value of trade between the two countries which was $2.2 billion in 2015 should increase to $6 billion within two years.
Financial, banking relations
Gabriel for his part expressed his satisfaction with the potential outcomes of the joint committee meeting and said that the two sides should work on ways to remove hurdles to the two-way trade.
Further in his remarks, Gabriel noted that around 2,000 German companies are members of the Iran-Germany Joint Chamber of Commerce and added, the joint economic committee meeting is taking place after 15 years and hopefully the next meeting would be held in the near future.
Touching upon the reestablishment of financial and banking relations between the two countries, the German minister noted, "There are still obstacles in financial and banking relations between Germany and Iran and we must try to overcome these barriers and expand cooperation."
Iran welcomes Germany's private sector
Prior to the meeting on Monday, Iran-Germany business commission was held at Iran Chamber of Commerce, Industries, Mines and Agriculture.
During that event, Iranian Deputy Finance Minister Mohammad Khazaei voiced the country's interest on expanding economic relations with Germany.
Khazaei said that the talks are underway to pave the way for expansion of German private section's investment in Iran.
Germany was number five in the list of top exporters to Iran following China, the UAE, South Korea and Turkey during the first half of the current Iranian calendar year (March 20-September 21).
Exports to Iran jumped 15 percent in the first half of 2016 to 1.13 billion euros and could reach 4 billion euros in the full year, said Michael Tockuss, head of the Hamburg-based German-Iranian Chamber of Commerce.
EF/MA/MG