"Starless Dreams" wins Children's Rights Award at Osnabruck filmfest 
October 25, 2016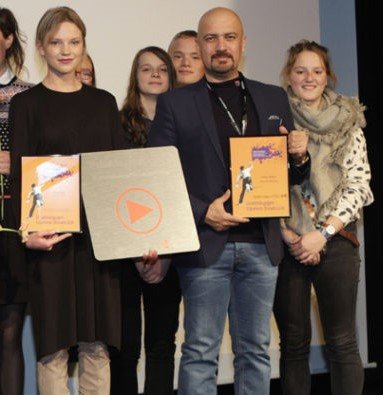 TEHRAN -- Acclaimed Iranian documentary "Starless Dreams" directed by Mehrdad Oskui has received the Children's Rights Award at the 31st Osnabruck Independent Film Festival, the organizers announced on Sunday.
The award sponsored by the Department of Children, Youth and Families of the northwestern German city of Osnabruck has been presented by a jury composed of four young members between the ages of 13 and 17.
"We liked the cinematic implementation as the film gives its pictures a lot of space to speak for themselves. One can see again and again the life-threatening youths on the one hand and the helpless desperate young women on the other," the jury said in a statement.
The film, which has been acclaimed at several international festivals, shows the lives of seven young teenage girls sharing temporary quarters at a rehabilitation and detention center on the outskirts of Tehran.
Photo: Iranian filmmaker Mehrdad Oskui (2nd R) poses with his award and a number of jury members during the closing ceremony of the 31st Osnabruck Independent Film Festival on October 23, 2016.
RM/YAW