Total inks major gas deal in Iran
November 8, 2016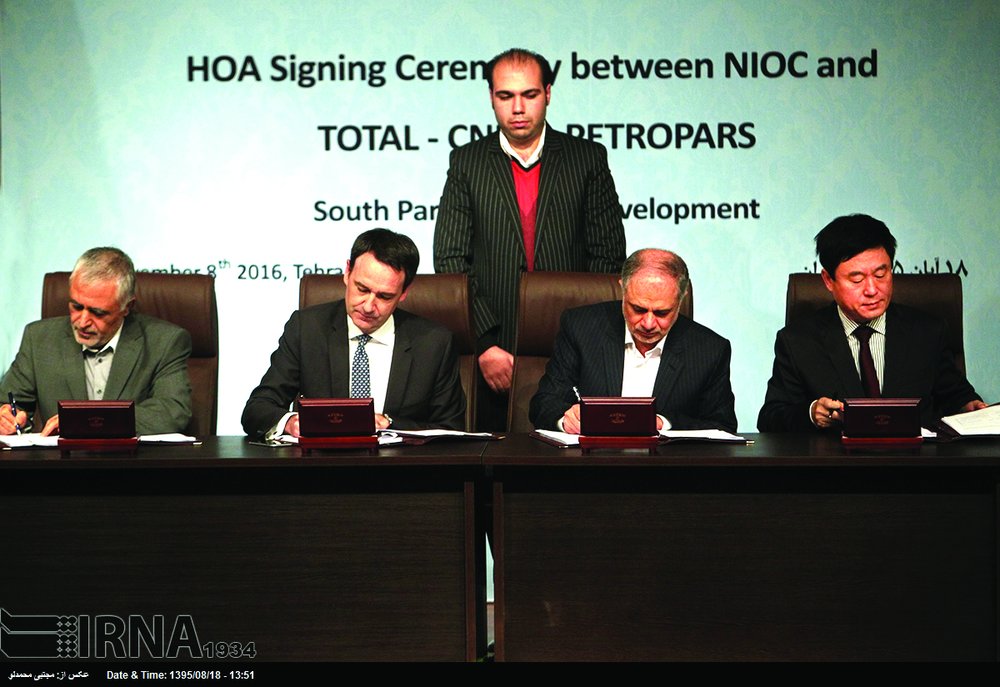 TEHRAN – Iran signed a $4.8 billion agreement on development of the country's South Pars gas field's phase 11 on Tuesday with France and China, Shana reported.
The deal which was in the form of a heads of agreement (HOA) document based on Iran's new oil contracts (known as IPC) was signed between National Iranian Oil Company (NIOC) and a consortium including France's Total, China National Petroleum Corporation (CNPC) and Petropars, a subsidiary of NIOC.
NIOC's Managing Director Ali Kardor, Total's President of Middle East, Exploration & Production Division Stephane Michel, Middle East director of CNPC and Managing Director of Petropars Hamid Akbari signed the document in Tehran.
According to IRNA, Mohammad Meshkinfam, the managing director of Pars Oil and Gas Company (POGC) which is in charge of implementing South Pars development phases, said on Tuesday that "The final contract will be signed early 2017."
Total, Petropars and CNPC would have 50.1, 19.9 and 30 percent of stakes in the project, respectively, Reuters said in a report.
In the signing ceremony, Iranian Oil Minister Bijan Namdar Zanganeh expressed hope that international companies should stop being hesitant about investing in Iran.
The minister also mentioned phase 11 development project and said it is anticipated that about 70 percent of development activities in phase 11, which is equivalent to about $3.5 billion will be executed by domestic companies.
The South Pars phase 11 project will have a production capacity of 1.8 billion cubic feet per day, or 370 000 barrels of oil equivalent per day. The produced gas will be fed into Iran's gas network.
With phase 11 going online, 56 million cubic meters of capacity will be added to the country's extraction from South Pars which Iran shares with Qatar in the Persian Gulf.
Focusing on enhancing rate of oil recovery by implementing modern technologies in this phase will make it the South Pars's technology transfer center. POGC is constructing a modern platform designed to increase gas pressure in this phase.
EF/MA