Iran's NISOC, Schlumberger sign MOU on 3 oilfields studies
November 28, 2016 - 18:5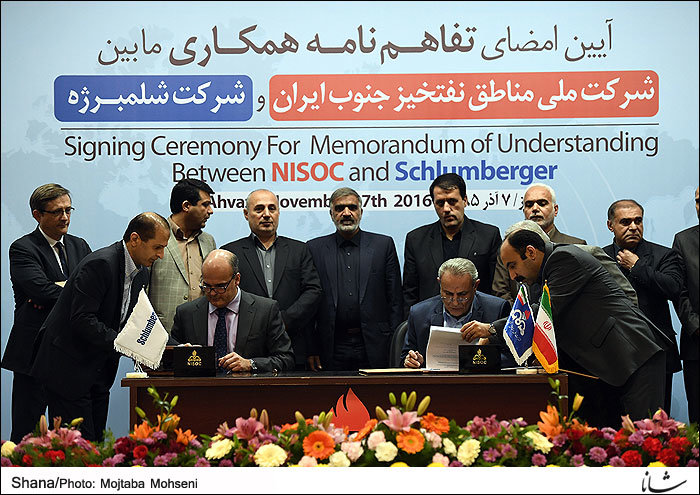 TEHRAN - National Iranian South Oil Company (NISOC) and Schlumberger Ltd., the world's largest oil driller by market value, signed a memorandum of understanding (MOU) on Sunday to carry out preliminary studies over three oilfields in southwestern Khuzestan province in Iran, Shana reported.
Shadegan, Parsi and Ragsefid oilfields were the subjects of the MOU which was signed by Bijan Alipour, the managing director of NISOC, and Tony Bowman, the president of production management at Schlumberger.
According to NISOC, technology transfer and skill sharing are the main focuses of the signed MOU.
Approved by Iranian oil ministry, the three above-mentioned oilfields in addition to Karanj oilfield in Khuzestan have been considered for development based on the country's new oil contracts, known as IPC.
Also on November 23, NISOC signed an MOU with a consortium of international companies known as Pergas to conduct preliminary studies over the Karanj oilfield and also a part of Shadegan.
More than 60 domestic and foreign companies have announced readiness to participate in the projects offered by NISOC among which 33 companies have been negotiating with the company so far.
EF/MA