Gazprom Neft, NIOC sign MOU, strengthening Iran-Russia energy ties
December 14, 2016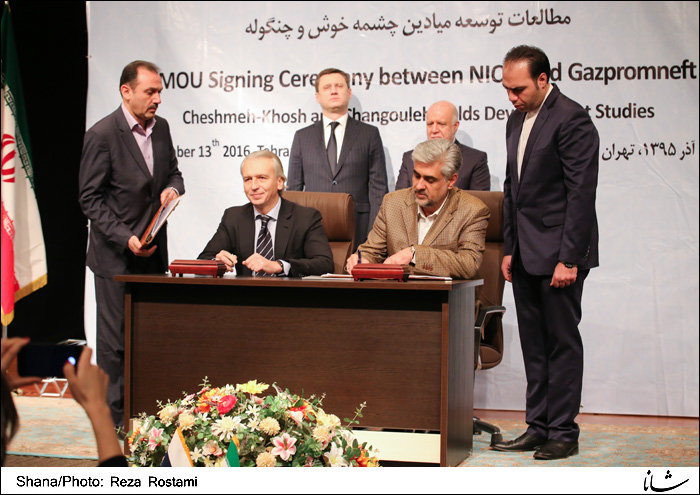 TEHRAN– Gazprom Neft PJSC, a subsidiary of Russian oil giant Gazprom, signed a Memorandum of Understanding (MOU) with National Iranian Oil Company (NIOC) on Tuesday for carrying out development studies on two Iranian oilfields, Shana reported.
Based on the MOU, which was signed in Tehran by Managing Director of Iran Central Oil Fields Company (ICOFC) Salbali Karimi, and Gazprom Neft's Chairman of the Management Board Alexander Dyukov, the development study of Cheshmeh-Khosh and Changuleh fields was awarded to the Russian company.
Iranian Oil Minister Bijan Namdar Zanganeh and Russian Minister of Energy Alexander Novak were also present in the signing ceremony.
***Russia's presence in Iran stronger than before
Before the signing ceremony, Iranian oil minister held talks with Novak during which he noted that with this MOU signed the number of field studies entrusted to Russian companies reaches seven and this makes Russia the greatest shareholder in Iran's oilfields studies.
"Lukoil has signed a MOU with NIOC to study Ab-Teymour and Mansouri fields, Zarubezhneft is awarded the development study of Aban and West Paydar fields and Tatneft is studying Dehloran filed," he said.
*** Iran praises role of Russia in OPEC deal
During his meeting with Russian minister, Zanganeh voiced the country's appreciation for Russia's significant role in the recent OPEC deal saying, "The positive communication between the two countries' presidents was highly influential and determining in this regard."
Novak on the other hand said he would exchange views with officials in Iran on agreements reached.
Iran and Russia held their first Joint Energy Committee meeting on Monday in which Iranian Deputy Oil Minister for International Affairs and Trading Amir-Hossein Zamaninia said oil and gas investment capacity between Iran and Russia could reach $10 billion.