Iran buoyed over Aleppo victory
December 13, 2016 - 21:27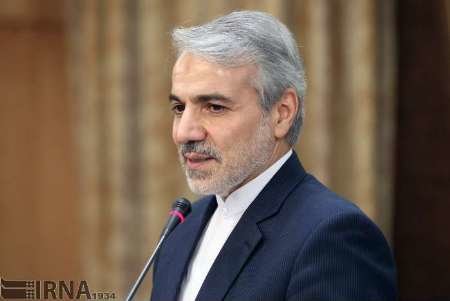 TEHRAN – Iranian Government spokesman Mohammad Baqer Nobakht on Monday expressed happiness over the Syrian government's victory against the terrorists in Aleppo, IRNA reported. 
"According to the latest reports which are very promising, the legal government and people of Syria are liberating Aleppo from terrorists," Nobakht told a press conference on Tuesday.
He noted that the Islamic Republic and all those who truly believe in human rights will be happy with the elimination of the bloodthirsty and ruthless terrorists who have been committing atrocities in the recent months.
He added, "There were countries who wanted to retain the terrorists in the area through passing a resolution at the United Nations."
Resistance for the right purpose will always be victorious, he emphasized.
Nobakhat also condemned those who have been supporting the terrorists, saying they must be "ashamed" of themselves.
Thousands of civilians living in Aleppo were able to flee the city on Tuesday as the Syrian military advanced on the territories held by the terrorists.
The Russian Peace Coordination Center in Syria said on Tuesday that the Syrian Army troops and popular forces have taken control of more than 98 percent of entire Eastern Aleppo, Fars news agency reported.
"Over the past 24 hours, Syrian government forces have liberated 11 districts of Eastern Aleppo. Thus, the Syrian authorities have regained control of over 98 percent of Aleppo city," the Russian center said in a statement.
"The area controlled by the militants in Eastern Aleppo does not exceed 3 square kilometers," it added.
Also, Turkish and Russian officials will meet on Wednesday to discuss a possible ceasefire and the opening of a corridor, Reuters quoted an unnamed Turkish official as saying on Tuesday.
MH/PA