Mahnaz Abdi
Enhanced gas recovery POGC's main focus in co-op with foreigners
December 21, 2016 - 10:56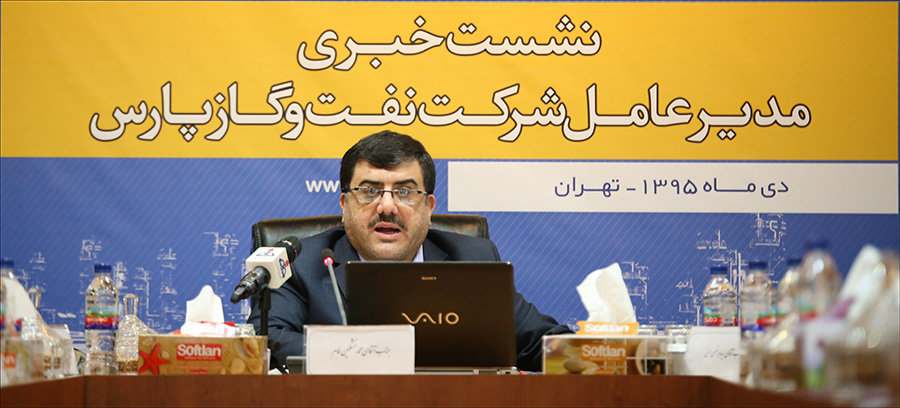 TEHRAN- Enhancing the rate of gas recovery from South Pars gas field through installing related installations and platforms is the main focus of Pars Oil and Gas Company (POGC) in attraction of foreign investment and also transfer of foreign technology to the country, Mohammad Meshkinfam, managing director of the company, told the Tehran Times in a press conference on Tuesday marking the 18th establishment anniversary of POGC.
POGC is a subsidiary of National Iranian Oil Company (NIOC) and is in charge of developing South Pars gas field, a huge field Iran shares with Qatar in the Persian Gulf estimated to contain a significant amount of natural gas, accounting for about eight percent of the world's reserves, and approximately 18 billion barrels of condensate.
Referring to the agreement NIOC signed with France's Total on November 8 for development of South Pars phase 11, the official said that it is an agreement for both attraction of investment and transfer of technology; highlighting that fund necessary for development can be provided anyway, but transfer of technology for the building of platforms equipped with gas pressure increasing installations is a necessity for the country.
"We should receive this technology from foreign companies at least in one case and then we will apply it in other cases," Meshkinfam noted.
He had said in October that by the next five years pressure drop control is necessary to be launched in South Pars, "In this regard, such control will be launched first in phase 11 and then it will be applied in the other phases."
The POGC managing director also said his company plans to attract foreign investment for transfer of such technology in the framework of Iran's new oil and gas contract model, known as IPC.
'$21b to be invested for completing South Pars development'
Elsewhere in his remarks, Meshkinfam put the total investment required for development of South Pars gas field at $91 billion, of which about $70 billion has been already made and the rest $21 billion will be made in the coming years.
'South Pars gas output to reach 550mcm/d by Mar. 2017'
The official further put the current gas production from South Pars at 500 million cubic meters per day (mcm/d) and said that the figure will reach 515 mcm/d by adding the gas produced in the second train of phase 20 refinery to the total output of the field within the next days and it is planned to hit 550 mcm/d by the end of current Iranian calendar year (March 20, 2017).
He also put the current production of gas condensate from South Pars at 600,000 barrels per day (bpd) that is planned to reach 680,000 bpd by the end of current calendar year.
Meshkinfam went on to say that the daily worth of South Pars production is planned to reach $272 million while its annual worth is projected to hit $90 billion by the end of the next Iranian calendar year (March 2018).
POGC managing director also put the cumulative amount and value of gas production from the field since the start of its development at 879 billion cubic meters and $378 billion.