Tehran, Yerevan sign five MOUs 
Iran, Armenia discuss Persian Gulf-Black Sea corridor
December 21, 2016 - 21:1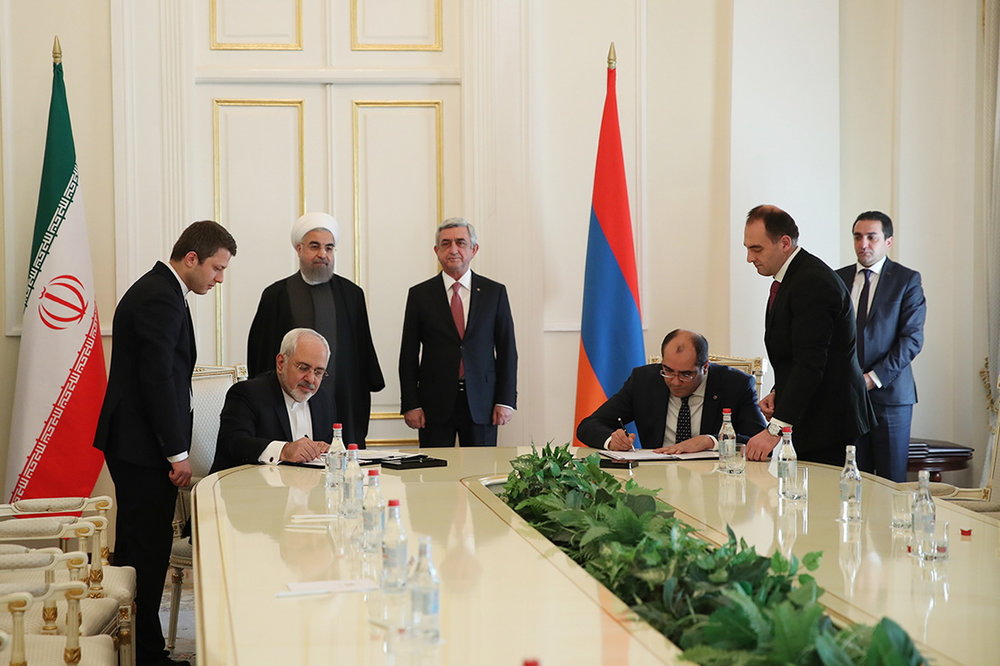 TEHRAN – President Serzh Sargsyan of Armenia says he has discussed with his Iranian counterpart, President Hassan Rouhani, a plan to establish a transit and transport corridor that connects the Persian Gulf to the Black Sea. 
"We have exchanged views on the program related to the establishment of a Persian Gulf-Black Sea transport and transit corridor," said Sargsyan at a joint statement following a meeting with Rouhani in Yerevan on Wednesday.
Rouhani visited Yerevan, the capital of Armenia, on the first leg of a Eurasian visit, which will also take him to Kazakhstan and Kyrgyzstan. The president is accompanied by a number of his ministers and deputies.
The project, once constructed, will be mutually beneficial, making it cheaper, safer, and shorter for Iranian and Armenian vehicles as well as those from other countries to transport cargos.
"This will be not only the shortest and the safest passage via Armenia for the Iranian vehicles but will also become a very serious impulse for the growth of the turnover between our countries," read another part of the statement.
President Rouhani confirmed the talks, stressing that the corridor will foster trade between Tehran and Yerevan and benefit the whole region.
"Connecting the Black Sea to the Persian Gulf will result in a great development in economic and trade ties between the two countries and the region," Rouhani told an Armenian-Iranian business forum on Wednesday in Yerevan.
During the visit, the two sides signed memoranda of understanding on, inter alia, sports, tourism and museum cooperation, emergency situations, and joint use of Meghri and Nurdooz Land Border Gate.
The two also stressed continuous swaps of natural gas and electrical energy.
AK/PA